An 100-year-old man who is due to turn 101 on the 31st of March had his birthday cancelled due to the Coronavirus epidemic.
Because of that, he has asked people online to spare a second to send him likes and comments – 101,000, to be exact – instead.
It's pretty sad news that Owen can't celebrate this milestone birthday, but given everything that's going on in the world, it's hardly surprising.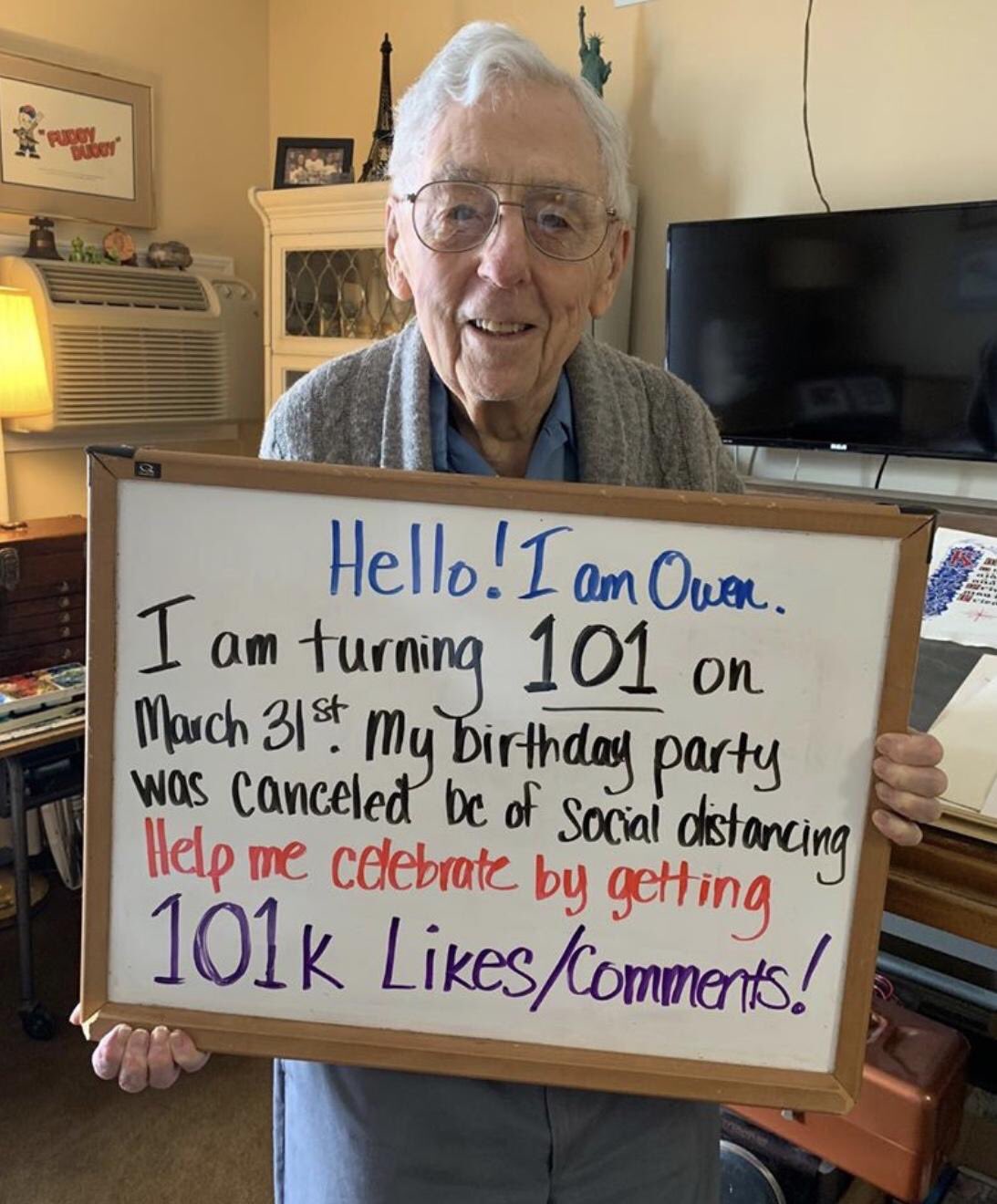 It was a small request then, shared by Mohamad Safa, a UN worker from the US, that asked people to show their love for this momentous occasion.
Taking to Twitter, he wrote:
"His 101st birthday party was canceled because of the impact of the Coronavirus. Please share and comment to help us make his upcoming birthday special. Please leave him a message here.

"Take 60 seconds and do it for Owen!"
In the picture, Owen held a board that read:
"Hello, I am Owen. I am turning 101 on March 31st.

"My party was canceled because of social distancing. Help me celebrate by getting 101k likes/comments."
Owen more or less got what he wanted, as the comments wished him well from all corners of the earth…
One person wrote:
"Owen: wishing you many more wonderful years of life!! Happy Birthday"
With another saying:
"You're looking amazing Owen – I'm really sorry about your Birthday party"
More comments echoed this, such as:
"Happy birthday! Have a lovely day! Sorry THE BUG ruined your celebrations"
And…
"Happy birthday Owen your birthday is always special and you'll still have a brilliant day"
It's difficult to tell when all of this will be over. If the original plan is to believed then – at least in the UK – we may be allowed to return to semi-normality in three weeks time.
Sadly that doesn't seem entirely likely though, and we may have to cope with living like this for quite some time.
Happy birthday to Owen. Look after yourself, friend.
Images via Twitter