A Cop Slammed A Black Man To The Ground And Broke His Wrist Mistaking Him For Someone Else
A police officer allegedly approached a black man from behind, slammed him to the ground and broke his wrist after mistaking him for another suspect.
Pretty disturbing news as a man of colour was assaulted by a police officer as he alleges he was confused for another man.
As a result, Antonio Smith is suing the city and police department in Valdosta, Georgia, and even has the body cam footage from one of the officers to prove it.
The federal lawsuit from Antonio Arnelo Smith, 46, was filed last Friday as the incident took place in February, with Smith looking to receive compensation for constitutional rights were violated by unlawful detention, use of excessive force, and false arrest and imprisonment, among other counts.
Valdosta Police Sgt. Billy Wheeler is the officer being accused, as his actions were "unnecessary and illegal". He placed Smith in a "bear hug" and detained him when there "was no reason to believe Mr. Smith had committed or was about to commit a crime, was armed or presented any kind of danger or threat to anyone".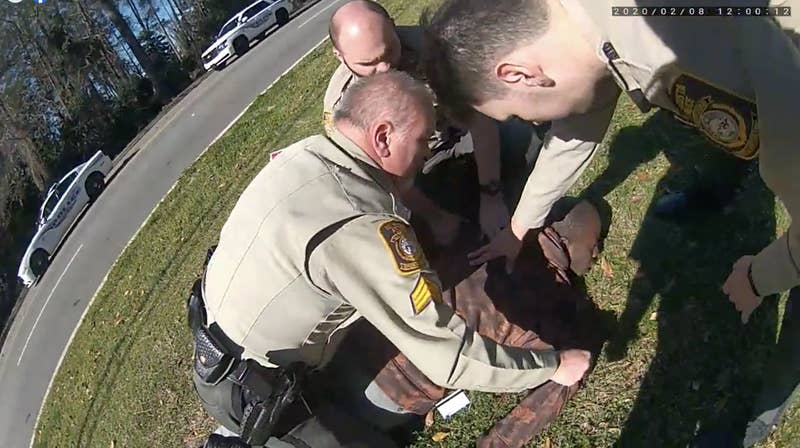 Three patrol officers are also named in the case as defendants, as well as the chief of police, the mayor of Valdosta, and six city council members.
In a statement, the city said:
"The City of Valdosta is fully committed to transparency. The City of Valdosta and the Valdosta Police Department takes any report of any injury to a citizen seriously".
The city went on to state that Wheeler used a "physical control technique to place the subject on the ground so handcuffs could be applied".
The video shows two other officers responding to the scene and helping Wheeler and fellow officer Henry handcuff Smith, who can be heard crying and shouting, "You broke my wrist," to which one of the officers says, "Yeah, he might be broke."
Quite a disgusting abuse of power and one that will hopefully see justice seen to as soon as possible.
Images via YouTube
Alfie Powell joined as an apprentice and was probably hired because he was likely the only person who applied. He's been blagging his way through writing articles for four years now and he's definitely showing signs of slowing down. When not writing for The Hook, Alfie finds time to indulge in his favourite hobbies, such as drinking and sitting down.