Aldi's Inflatable Hot Tub Is Coming Back This Summer
You can get yourself a lovely inflatable hot tub from Aldi this summer if you're quick.
There would be little better to make this lockdown more bearable than a gorgeous hot tub in your garden.
There's little to make anything better than a hot tub actually, and you can have your very own one as Aldi are going back to selling their own inflatable hot tub.
You'll remember that Aldi frequently bring out hot tubs and the like every summer, and more often than not, they sell out within a few days of existing.
This time though, we're giving you a head start and if you're quick, you can be one of the lucky bastards to get your hands on your very own hot tub.
With 120 warm air jets, filter cartridges to keep the water clean and heating, the inflatable hot tub will set you back all of £349.99 which, as the keen mathematicians amongst you will notice, is less than £350.
As the product description reads:
"Indulge in the ultimate relaxation in the comfort of your home with our amazing inflatable hot tub.

"Imagine coming home from a long day and being able to unwind in your very own spa pool, sinking into the warm water, letting the bubbles comfort you as you let the stresses of the day float away.

"Perfect for indoor or outdoor use, this spa pool is a real luxurious treat! Not to mention, with room for 4, it's the perfect way to invite friends over for a catch up and a pampering session – win, win."
Another good thing about this particular deal is that Aldi are allowing you to get yours online, rather than having to go into the shops.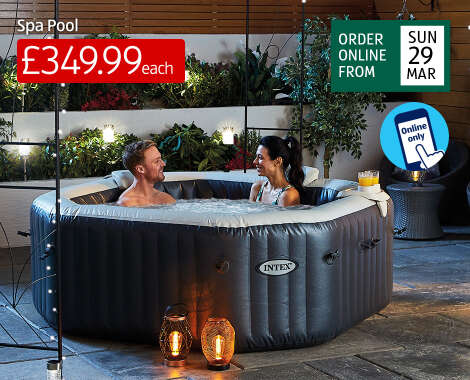 When can I get one?
If you're after one, then you better keep your eyes open on Sunday – 29th March – when you can order one with a £6.95 delivery fee.
What I'm getting at is that this is a good deal, especially considering that a normal hot tub will usually set you back more than 10-times that… and the rest.
Be quick.
Images via Aldi
Alfie Powell joined as an apprentice and was probably hired because he was likely the only person who applied. He's been blagging his way through writing articles for four years now and he's definitely showing signs of slowing down. When not writing for The Hook, Alfie finds time to indulge in his favourite hobbies, such as drinking and sitting down.