Ant And Dec Will Film Tonight's 'Ant & Dec's Saturday Night Takeaway' Live From Their Living Rooms
Ant and Dec will film tonight's Ant & Dec's Saturday Night Takeaway live from their SEPARATE homes
We might need a few mins to adjust to this one, boys.
[ad-a]
If you thought watching last weekend's Ant & Dec's Saturday Night Takeaway without a studio audience was f*cking weird, then get ready for things to get even weirder tonight.
Due to the escalation in social-isolation and lockdown measures across the country, presenters Ant and Dec will be presenting tonight's entire spectacle live from their individual living rooms. Yep, last week ITV scrapped the studio audience; this week, they've scrapped the f*cking studio, too.
[ad-b]
I get that this is an absolute necessity in these wild times we're living through, but I can't help but feel watching these boys live in their living rooms tonight is going to give the whole thing an uncomfortable OnlyFans feel. Just me?
And yes, I did say separate living rooms. I know, I know; I assumed they lived in the same mansion with a trophy room the size of your average council estate, too – and slept in a bunkbed together, a la Stepbrothers.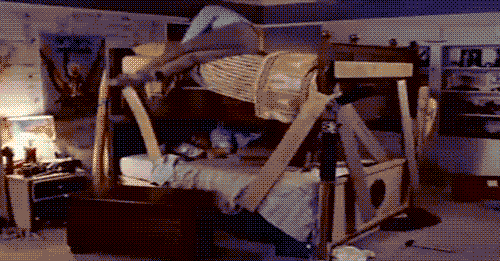 Weirdly, I've thought about this a lot.
But, they don't. The boys live in separate palaces and therefore are in isolation from each other right now. That's a sad thought, isn't it?
[ad-c]
Due to tonight's unique set-up, the show will be only 60 minutes long, instead of the usual 90 minutes. It will include the final episode of "Men In Brown", as well as some of the boys' best bits, which will be introduced via pre-recorded links.
Ant and Dec announced the unorthodox news via Instagram, last night.
[ad-d]
In their Insta vid, the pair said that this set-up will give them the unique opportunity to watch the show alongside the audience from their own living rooms.
They captioned the video as follows:
"That's settled then.. this week we'll be dong @itvtakeaway on the telly… from both our houses! (Suits for you at home are optional!) #SaturdayNightTakeaway #TogetherAtHome #StayHome."
I just don't know – I'm a Pisces; we don't do change. But what other choice do they have?
[ad-e]
Welcome to the new normal, I guess.
Good luck, lads.
Ant and Dec go live from their homes for tonight's Ant & Dec's Saturday Night Takeaway at 7pm on ITV.
Images via ITV and Instagram
Having worked in children's media and publishing for almost a decade, Ben is thoroughly excited to now be able to swear in stories and features. He is such a big fan of Disney and Horror films that he started an LGBTQ+ podcast called 'Once Upon A Scream'. His mum listens. You can contact Ben at ben.pulsford@thehook.online. Twitter: @PulsfordBen / Instagram: @thebenmidler