ASDA Shopper Wears Stormtrooper Helmet To Protect From Coronavirus
Someone was spotted in ASDA wearing a Stormtrooper mask, presumably in a bid to shield themselves from the dreaded Coronavirus.
Some things are hard to believe, even when you see them. A woman wearing Star Wars memorabilia to ward off a pandemic is one of those.
[ad-a]
Ignoring advice from Finn in "First Order stormtrooper helmets could filter out smoke, but not toxins," a woman wore one of their helmets instead of an actual mask.
The pictures were taken by Mark Mattocks as he saw the shopper getting their fill of Coca Cola at an ASDA in Sittingbourne, Kent. He went on to tell The Sun:
[ad-b]
"I was strolling past the aisle with my girlfriend and we were both chatting about how empty the shelves were.

"We both glanced along and carried on walking then froze and both said 'did you just see that?'

"I was totally stunned at how casually this lady was shopping with that on her head.
[ad-c]
"It looked like she was stockpiling bottles of Coke."
[ad-d]
It's an absolutely bizarre method of protecting oneself and you sort of have to wonder if she's done this all just for a laugh.
I guess if someone coughed on your Stormtrooper mask while you were wearing it, it's more likely that the germs would be stopped by the sheet of plastic in front of your face, but come on.
It just seems more trouble than it's worth, right? Don't most places make you take off your "helmet" before entering? You might get a laugh, but that rule probably extends to Star Wars toys.
[ad-e]
It doesn't even go with her outfit. She'd be better off donning a Darth Vader helmet.
Meanwhile, another guy was spotted wearing an entire hazmat suit in a Tesco Extra in Yeovil, Somerset, like he'd just wandered off the set of Chernobyl to do his groceries.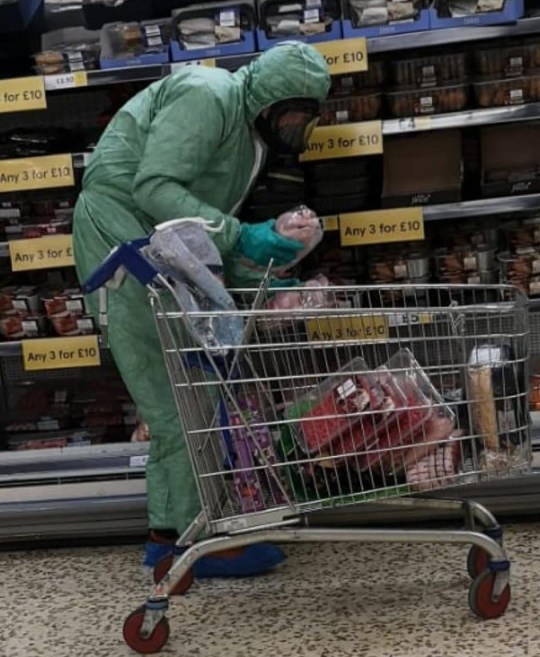 Someone named Ethan Mees saw the man in the supermarket and said:
[ad-f]
"Everyone in the shop was looking at him.

"It looked like a loaf of bread, three packs of mince beef and some sort of meat joint in his hand.

"It was odd and slightly scary."
People, eh?
Images via Ethan Mees, Mark Mattocks
Alfie Powell joined as an apprentice and was probably hired because he was likely the only person who applied. He's been blagging his way through writing articles for four years now and he's definitely showing signs of slowing down. When not writing for The Hook, Alfie finds time to indulge in his favourite hobbies, such as drinking and sitting down.