Bar Slammed For Hosting Coronavirus-Themed Night With Free Face Masks
Since the coronavirus outbreak hit headlines, there's been various different memes that appear to mock or make light of the mounting global health emergency.
[ad-a]
There's been too many Corona beer gags to count: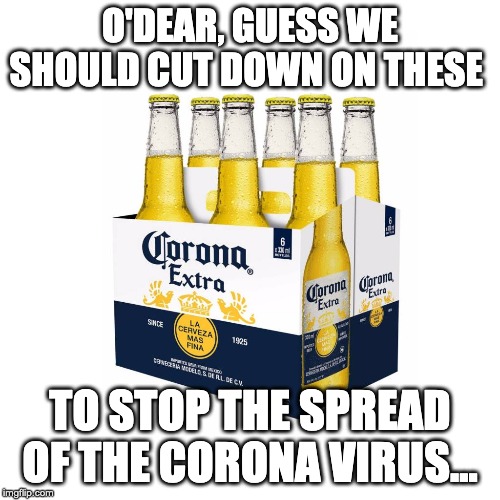 And that's just a handful of memes – there have literally been countless attributed to various situations and scenarios shared between social media users and businesses.
For Fitzgerald's Irish Bar, in Banbury, Western Australia, however, the outbreak appeared to be the perfect promotional opportunity to draw in punters – offering $6 Corona all night with free face masks.
[ad-b]
It was set to be the 'sickest night of the year' – or so the bar claimed.
The ad has since sparked outrage across social media and in local press, with many branding the promotion "disrespectful" in light of those suffering and those that have tragically lost their lives.
The event description on Facebook read: "There's been a LOT of talk about Corona and to be honest its made us pretty thirsty".
"We've heard Corona is pretty popular at the moment. We're not sure why though, it's just a beer isn't it?".
[ad-c]
"$6 CORONA'S ALL NIGHT THIS SATURDAY. We dare you to find a better special".
And as if the offer of free face masks wasn't tactless enough, the description continues:
"We (sort of) promise they aren't contaminated".
The post went live on Friday but has since been deleted.
12,000 cases of the virus have now been confirmed and its spread has so far killed more than 250 people, with two people now confirmed to have the disease in the UK.
Ads such as this have therefore infuriated many people who take aim at businesses and individuals looking to make a quick buck off the peril of others.
House of Hood, in Hamilton, New Zealand has also promoted a deal on Corona beers for $6.50 and its offer will stand as long as "the pandemic lasts".
[ad-d]
"Virus or no virus, we still think Coronas are pretty great, so while the pandemic lasts, we're selling Coronas for just $6.50, all day, every day", the advert read.
"Mention your Corona loving mates to let them know about this great deal and you could be sharing a free one-metre pizza this Friday at House".
The accompanying photo for House on Hood's Corona beer deal has again sparked complaints with many people who aren't exactly won over with the offer of a free one-metre pizza.
"Worst advertisement ever. More than 130 people have died and many more is still suffering, whereas you guys are making fun of it, just to earn more money for your business", one person wrote.
"Yikes. Not in the greatest taste, but go off I guess", said another.
[ad-e]
Even Corona beer distributors, Lion in New Zealand have demanded the advert be taken down immediately.
"We were unaware of the promotion and we do not condone it. We will be asking that it is discontinued", it said.
In disregard, House on Hood have since posted a second advert on Thursday, showing a Corona beer wearing a gas mask.
I mean, come on – they're even digging out their community here.
Tut, tut.
Although the virus began its outbreak in China last month it has since spread to more than a dozen counties with seven cases even being confirmed in Fitzgerald's homeland of Australia – which just adds to the distaste.
In New South Wales, coronavirus testing is ramping up as authorities await lab results for 16 new possible cases referred for investigation.
[ad-f]
Two people confirmed to be infected in NSW have improved significantly and could soon be released from hospital isolation, but there have been a further 40 tested for the infection in NSW alone.
We wonder if the promo nights were as 'sick' as they were promised to be or did they just end up a bit of a blunder?
Meanwhile, Corona themselves have sort of sat back and remained silent on the rising onslaught of memes accredited to their beer. Despite some people believing the virus was in fact associated with drinking the beverage…
They haven't yet changed their name as one meme implied:
Again, pretty tactless but it seems many social media users have nothing better to do.
Images via Imgur/Facebook