Allegedly theft of motor vehicles in Manchester is rife with the number of stolen cars in the region rising by a staggering 79% in just four years with Rochdale being a particular hotspot.
Residents and police alike are understandably getting sick and tired of car thefts – especially as reports suggest nine out of ten car thieves are getting away with it.
[ad-a]
But it seems some are getting their comeuppance all thanks to the locals.
[ad-b]
This clip, which was shared on Twitter, shows one car thief getting a slap after crashing a stolen car into another vehicle in Droylsden, Manchester last week.
After initially running from the scene the lad is seen returning back to the smashed-up vehicle to grab something – much to his regret.
[ad-c]
As the chav makes a break for it once more after collecting his things, one resident catches two men, one who appears to be passing in a blue van, stop and take matters into their own hands (quite literally).
The thief gets whacked into the resident's wall which knocks a few blocks off before he is apprehended by the male from the blue van as the video ends.
It sounds like one of the men is shouting "b**tard" as he points and stands over the young lad adding: "There's f**king kids around".
[ad-d]
It is not clear whether the two men who stepped in were related to each other in any way as the man who knocked matey's block off is seen walking away from the stopped blue van back across the street.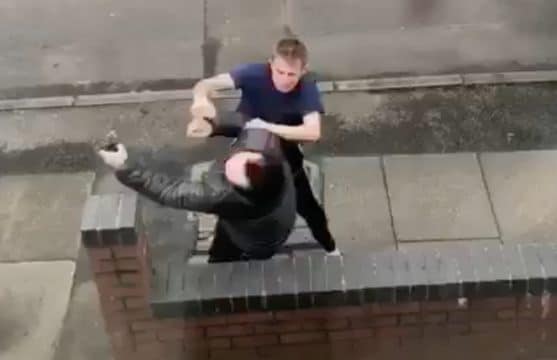 You have to admit, it's somewhat gratifying to see someone get their dues, but I can't help but wonder what happened to the tyrant after the resident stopped filming?
I reckon said resident went down to check on their wall and I hope the police were then called.
[ad-e]
Last year, Greater Manchester Police launched an operation with an aim of dismantling the crime kingpins behind the surge in car thefts – but a senior officer revealed the force was somewhat hampered by 'huge cuts to its budget'.
Reports by Manchester Evening News suggest cars are being stolen from driveways and then end up being 'stripped and sold piece by piece on eBay to China or shipped to Europe, Africa or Asia'.
Audis and Volkswagens being stolen could be worth up to £40,000 but thieves are only getting around £1,500 for each steal – but could be racking up three a week seeing them quids in.
[ad-f]
Although, I bet so-called 'chop shops' may well find their international trade diminish amidst the coronavirus outbreak.
I hate to say it – but every cloud.
Images via Twitter