Floating Cinema With Socially Distanced Boats Coming To Paris
A floating cinema is coming to Paris, where customers will be given their own boats to watch a film from, safe in the knowledge that they will be socially distanced from other punters.
This is exactly the kind of place where a shark or a crocodile or something with a bone to pick with humanity would run riot. A floating cinema? You kidding me? It'll be like Christmas morning for them.
That's exactly why you won't catch me in Paris next week when the floating cinema opens, allowing customers to watch films from boats. I will not be there, and I promise that isn't because I'm poor.
Cinéma sur l'Eau — or cinema on the water — will be held on the 18th of July, and will celebrate the start of Paris Plages, an annual city-run event that creates temporary beaches along the Seine and the Bassin de la Villette during the summer.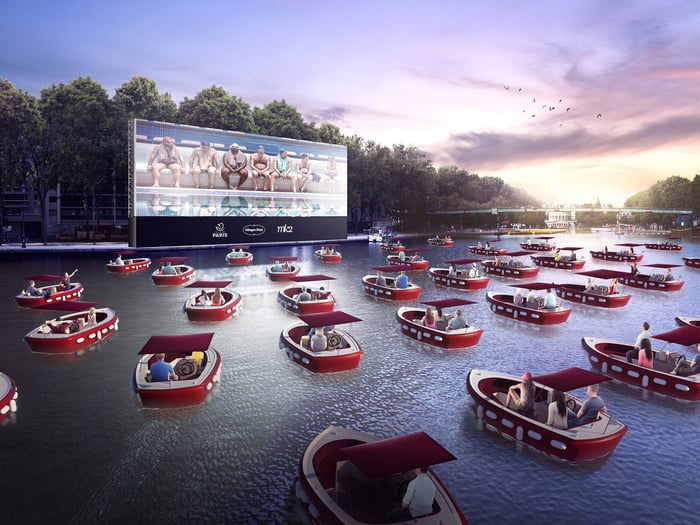 As you may have worked out now, the cinema will be in Seine, in Paris, and will be open to anyone lucky enough to win a ticket.
Locals can enter a raffle for free tickets from the 7th to the 15th of this month, with 38 electric boats that can hold two to six people each on offer. Meanwhile, another 150 seats will be available on dry land on a first-come, first-serve basis.
The film shown will be Le Grand Bain – Sink or Swim in England – from 2018 and actually sounds pretty good. The synopsis reads:
"Several 40-something guys, all on the verge of a mid-life crisis, decide to form their local pool's first synchronised swimming team — for men".
Interestingly, this particular film is a French remake of a Swedish film, which was also remade in the same year with a British cast… That's how cinema works in Europe and yes it's weird.
I don't want to brag, but I've been on a boat before. even when you set some sort of anchor down, they still sway about like a drunk girl in a park and sometimes even turn around. I don't think they'd take kindly to people wanting them to point in one direction for two hours.
I'm sure they've thought about that though.
Alfie Powell joined as an apprentice and was probably hired because he was likely the only person who applied. He's been blagging his way through writing articles for four years now and he's definitely showing signs of slowing down. When not writing for The Hook, Alfie finds time to indulge in his favourite hobbies, such as drinking and sitting down.