If You're Worried About Coronavirus, Matthew McConaughey Is Here For You
If you're worried about coronavirus, Matthew McConaughey is here for you and the rest of the world
"There is a green light on the other side of this red light that we're in right now."
[ad-a]
The 50-year-old Hollywood hunk has reached out to his millions of social media followers to make sure they are all doing "alright, alright, alright" during these troubling times, through an inspirational video.
[ad-b]
The Magic Mike star has posted a short video of himself (in self isolation) on social media, imparting some golden Matthew McConaughey wisdom on the world as it deals with the ongoing threat of the coronavirus pandemic.
Naturally, millions of people have perked up their ears and McConaughey's inspirational words are now trending across the social sphere.
Quite frankly, Boris and Trump should consider taking some notes from this speech – and the hair… in fact, just about everything McConaughey is serving in this video.
[ad-c]
The speech we all need to hear (on loop) right now
McConaughey said:
"I just want to say, in these crazy times that we're in with coronavirus, let's take care of ourselves, and each other.

"Let's not go to the lowest common denominator and get paranoid. Let's do our due diligence and take the precautions we need to take care of ourselves and the people around us."
He added:
"We have an enemy in coronavirus that is faceless, that is raceless, that is sexless, nondenominational, and bipartisan. And it's an enemy that we all agree we gonna beat. We wanna beat and we're gonna beat."
[ad-d]
McConaughey then stresses that although we're in the red right now, the green is just on the other side. #Swoon
"There is a green light on the other side of this red light that we're in right now," he said. "And I believe that green light is gonna be built on the values that we can enact right now."
He finishes by saying:
"This virus, this time might be the one time that brings us all together and unifies us like we have not been in a long time," he said. "So, yes—let's see if we can make some lemonade out of this lemon that we're in the middle of. Turn a red light into a green light. Just keep livin'."
[ad-e]
That's how you do it, boys.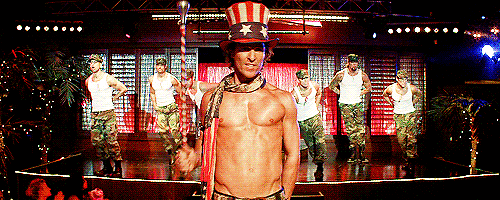 If there was ever a time to give Magic Mike a rewatch, it's self-isolation. IJS. 
Images via Warner Bros and Getty
Having worked in children's media and publishing for almost a decade, Ben is thoroughly excited to now be able to swear in stories and features. He is such a big fan of Disney and Horror films that he started an LGBTQ+ podcast called 'Once Upon A Scream'. His mum listens. You can contact Ben at ben.pulsford@thehook.online. Twitter: @PulsfordBen / Instagram: @thebenmidler