Katy Perry, Madonna And More Duped By Fake Balcony Videos From Italy
Celebrities have been fooled by fake videos of quarantined people in Italy singing their songs during the nationwide lock-down.
Videos of self-isolated Italians singing united from their balconies has been one of the only heart-warming news stories we've seen in the last weeks, as coronavirus continues to spread.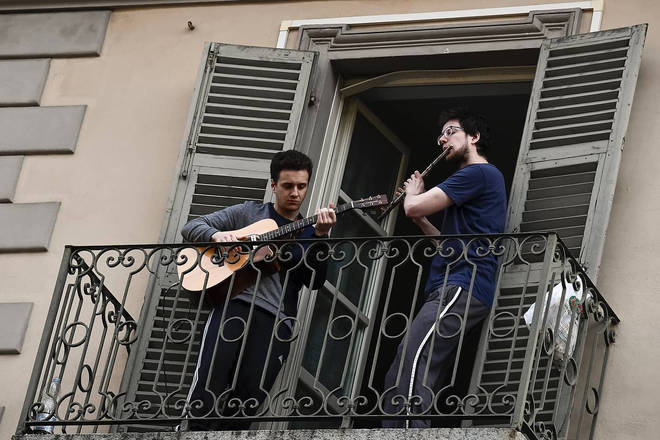 Unfortunately for a handful of gullible celebrities, a number of these rallying videos have turned out to be, in fact, fake.
The second-hand embarrassment I felt reading about this was unparalleled. The first of the fake videos made its way to poor, poor Katy Perry, who retweeted the video with the attached caption: 'You cannot break the human spirit. We are one in this'.
It is a lovely sentiment, but slightly undercut by the rousing tunes of a year eight house party.
You can't help but feel bad; the tweet was well meant, and comes as warming statement of support and unity in increasingly worrying times. Honestly though, it's still pretty funny.
I never thought of Cheryl Cole's 2010 classic as a rallying anthem for the whole world, but it's okay because I don't think anyone else did either. Maybe Cheryl did. Sometimes you just have to be the president of your own fan-club.
The singer and TV personality tweeted: 'I'm not crying 😢' attaching the (now deleted) video of a group rendition the song which, though a banger, is unlikely to have been Italy's original choice of song. Oh, Cheryl.
Other victims to the hoax include Madonna (Madonna!), Ariana Grande, and Shawn Mendes. It baffles me that these people would think a tiny Italian village would find mid-pandemic comfort in lyrics like 'And any girl like you deserves a gentleman / Tell me why are we wasting time / On all your wasted cryin'. I feel you, Shawn.
With clubs shut, where else can we get our fix of generic, pseudo-inspiring ballads?
Someone tell them. Please!!
Images via Twitter, Getty
Emily Capon has defied experts by making it to her second year of an English degree despite barely being able to string a sentence together. She majorly vibes with those pictures of birds with human arms and the dog with human eyebrows. Chaotic good.