KFC Is Giving One Super Fan A Year's Supply Of Free Chicken
KFC are offering one lucky super fan the chance to get their hands on a year's worth of free chicken. If you're not into the idea of getting free KFC for a year, then you're broken. I'm sorry.
I actually think I could live without KFC chicken in my life and not miss it that much, but the one thing I'd really want would be their gravy. It's just absolutely fantastic stuff. I have no interest in seeing how it's made, but I really would drink that stuff by the pint if I could.
Sadly, that's not on the cards, but one can dream. In the meantime though, you can try to get your hands and mouth on a year of free chicken from KFC. who are looking for a fan to reward.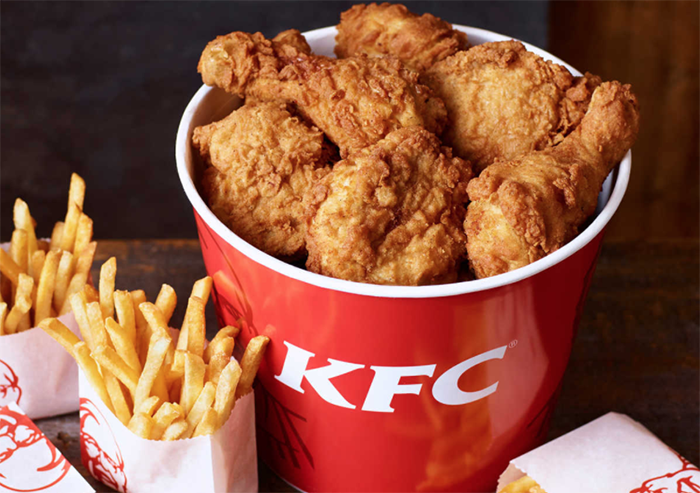 Despite National Fried Chicken Day being on the Monday just gone, KFC are still celebrating and now the hunt is on to find what they call the "biggest chicken eatin', wing slingin', gravy dippin' fan" to put in its KFC Hall of Fame.
Launching the competition, KFC asked:
"Have you ever penned a letter of love to the red, white and gold(en drumsticks)? Did your heart break when KFC closed its doors during lockdown… only to drown your sorrows in some (questionable) homemade fried chicken? Or maybe you've even collected every KFC artefact since the first UK restaurant opened its doors in 1965? If this is you, we want to know".
The restaurant chain are letting you show your love in any way you choose, as they said you can:
"Write a poem, write a song, write a rap, or even a dance".
On top of the chicken, you will also be given a ceramic KFC bucket with your face on it, that I'm certain will just gather dust in your utility room.
You can enter your submission on the KFC Facebook page, but make sure you get it done before the 14th of July. They added:
"There are no limits to prove your love for KFC's crispy, golden chicken… be as creative as possible; whether it's a poem, a short video or a selfie in the drive-thru, the choice is yours. No entry is too big nor too small in the Colonel's eyes".
Good luck, y'all!
Images via KFC
Alfie Powell joined as an apprentice and was probably hired because he was likely the only person who applied. He's been blagging his way through writing articles for four years now and he's definitely showing signs of slowing down. When not writing for The Hook, Alfie finds time to indulge in his favourite hobbies, such as drinking and sitting down.