KFC Is Looking For A Professional Fried Chicken Taster
KFC are after a fried chicken taster and that could be you, if you think your palate is up to it.
You have to wonder if people who work in pizza restaurants or various takeaway places get sick of all of the pizza and/or takeaway.
Do they go home and crave an apple? I don't know!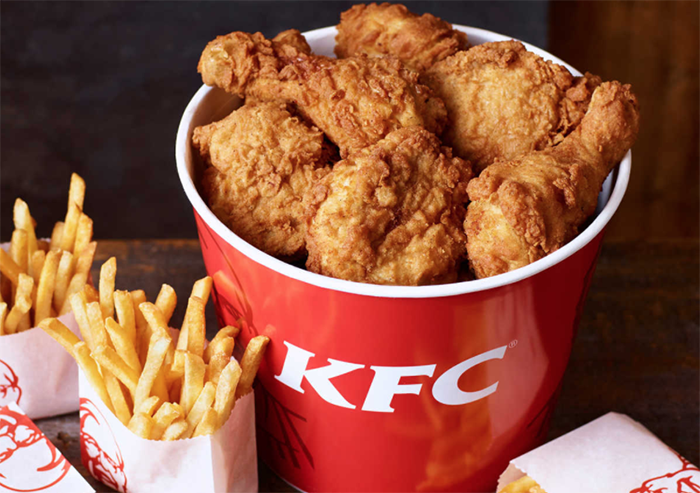 Well maybe you can test the idea out yourself, since KFC are looking for a professional chicken-taster and while you would assume one could never tire of KFC, maybe this is how you do it.
I'm going to let you in on the saddest thing that ever happened to me and I know a lot of stories on the internet are embellished, but this is 100% true.
When I was in primary school – I was around eight-years-old at the time – for some reason or another, I had to go home one day early. It could have been a hospital appointment or something, but regardless, I left school at around 2pm, feeling pretty good about myself and probably gloating to my friends.
Little did I know that Walls (whose head office was in my town) were journeying to my school so they could spend a couple of hours with the children of my class to test out their new ice cream flavours.
I literally missed out on being an ice cream taster.
Don't make the same mistakes I did.
Go for this KFC role of eating chicken for money.
As the ad states:
"One clucky fan will get the chance to tuck into some of Kentucky's finest, winging their way to stardom as the face of the chicken legend's latest campaign.
"The winning KFC connoisseur will take part in an exclusive photoshoot showcasing their finest finger lickin' skills."
Right so it doesn't sound like it's a career by any means, but it still sounds like a lot of fun.
The way to apply is pretty simple; you must tweet at KFC (with the #KFCFRYERME hashtag, while tagging @KFC_UKI) and in no more than one tweet, explain why you deserve the job.
If you get the job, your face will be everywhere, including your own bloody billboard.
Unless you're one of those people who doesn't like attention, then there are no downsides to this internship.
You get a billboard and free chicken. It's every man, woman and child's dream.
Do us proud.
Images via Getty, KFC
Alfie Powell joined as an apprentice and was probably hired because he was likely the only person who applied. He's been blagging his way through writing articles for four years now and he's definitely showing signs of slowing down. When not writing for The Hook, Alfie finds time to indulge in his favourite hobbies, such as drinking and sitting down. You can contact Alfie at [email protected]