Football Team Forced To Remove Cardboard Cutout Of Bin Laden From Stadium
Leeds United have been forced to remove their cardboard cutout of Bin Laden from their stadium, having accidentally printed one out and sticking it in the stands.
2020's a weird one isn't it? You can't predict what's going to happen next and if you did predict that Bin Laden – eleven years after his death – would be appearing at Elland Road post-lockdown, that's because you're the one who paid for him to be there.
Due to the current global health crisis, for obvious reasons fans aren't allowed inside football stadiums to watch their teams play. It's because of that, teams like Leeds United are offering "Crowdies," which cost £25-a-pop and are essentially cardboard cutouts or yourself in your usually stadium seat.
It's a nice idea – albeit one that's offensively expensive and season ticket holders should get their's for free – but sadly it's not very well managed and because of that, someone was able to get a picture of Bin Laden to feature in Leeds' game against Fulham, due to go down tomorrow on the 27th June.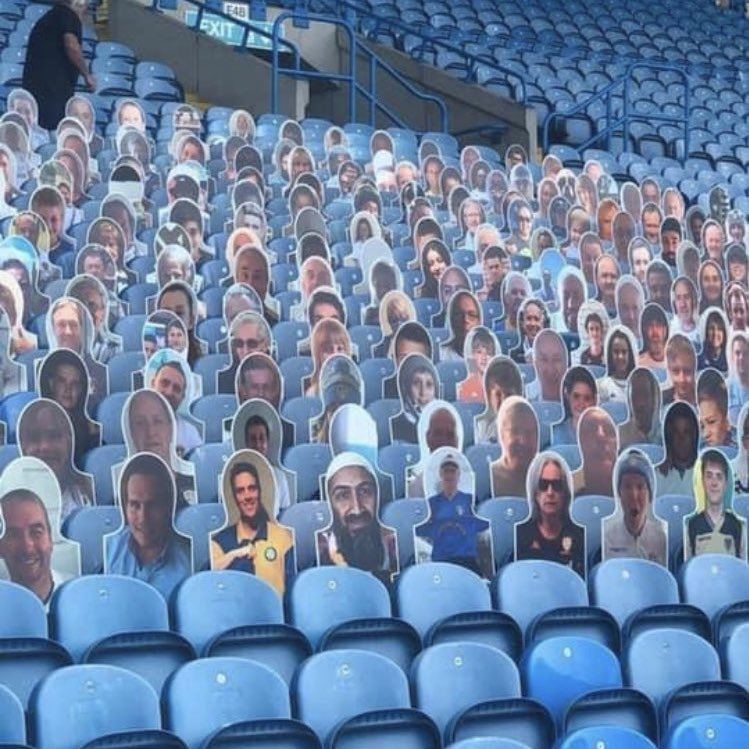 Of course it was taken down the minute anyone realised, but the point is it got there and images were shared all over the internet.
It was first spotted on Twitter as the man who was placed next to the al-Qaeda, who then tweeted "Thanks @lufc I'm next to Bin bloody Laden!!!" which is something no-one would ever think would be said.
Many people then chimed in, such as Paddy McGuinness and comedian David Baddiel, who said:
"What's amazing about this is that someone at Leeds is educated enough to realise that even a fake crowd should not be entirely white, but not educated to know who Osama Bin Laden is".
While someone else commented:
"Can't get over the fact that someone has paid 25 English pounds to put a cardboard cut out of Bin Laden at Elland Road and even more so that the club have done it no questions asked".
God this team will probably be in the Premier League next season. Scary.
To my eternal shame, Bin Laden was an Arsenal fan – like me and apparently the queen – so it doesn't even make sense to put him there. He belongs at the Emirates Stadium probably.
A spokesperson for Leeds United insisted this won't happen again, saying "checks are in place to ensure there are no more offensive images".
Images via Twitter
Alfie Powell joined as an apprentice and was probably hired because he was likely the only person who applied. He's been blagging his way through writing articles for four years now and he's definitely showing signs of slowing down. When not writing for The Hook, Alfie finds time to indulge in his favourite hobbies, such as drinking and sitting down.