'Legends Of The Hidden Temple' Is Being Rebooted With Adult Contestants
Legends Of The Hidden Temple is being rebooted with adult contestants to the delight of literally every '90s kid
The legend continues.
If you were a child of the '90s, give yourself a minute to digest this. I did.
[ad-a]
Quibi is bringing back Legends of the Hidden Temple
A new mobile streaming service called Quibi has announced that it will be rebooting the hit '90s Nickelodeon game show in 2020. The new streaming service, described as "the first entertainment platform built for easy, on-the-go mobile viewing", doesn't actually launch until 6th April 2020, so it's likely that the rebooted Legends of the Hidden Temple will be one of its first original shows.
[ad-b]
Legends of the Hidden Temple reboot will feature adult contestants
And here's the best part…
The reboot will feature adult contestants and be filmed in an ACTUAL JUNGLE, unlike the original series, which starred kids competing in a Florida studio.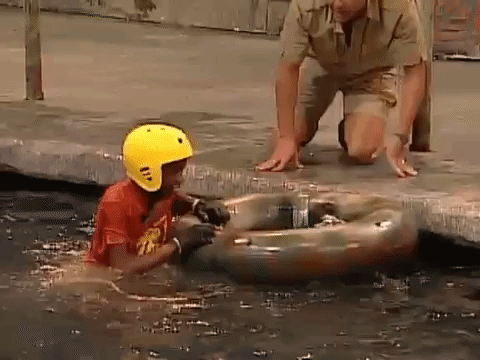 I have to say, this is music to my f*cking millennial ears. I'd actually somewhat given up on getting excited about reboots – I mean, talk about beating a dead horse – but this has totally relit my fire. In fact, this is honestly big enough to make me consider giving in my notice at The Hook and just focus on applying to become a contestant on this show full time.
[ad-c]
Quibi's official statement
Here's what Quibi had to say about their new series:
"This new, supersized, reimagined version will preserve many of the favourite original elements of the show – the Moat Crossing, Olmec and the Temple Run – but will see them "grown up" for an audience that's grown up along with them. The entire set will be taken out of the studio, into a jungle and scaled up with tougher challenges and bigger prizes on the line."
Dead.
[ad-d]
Legends of the Hidden Temple – such a throwback
The original game show aired between 1993 and 1995 on Nickelodeon (yes, the '90s vibes were outrageous – so many curtains and dungarees) and over 120 episodes were made in total. The show revolved around a fictional temple that was "filled with lost treasures protected by mysterious Mayan temple guards". Six teams of two kids competed to retrieve one of the historical artefacts hidden inside the temple by performing physical stunts and answering questions based on history, mythology, and geography.
Basically, imagine the perfect mix of Total Wipeout, every '90s movie you've ever seen and Indiana Jones. Legendary.
[ad-e]
Remember the movie?
If you watched the '90s series, then you've probably watched the Legends of the Hidden Temple movie more times than you'd care to admit. I mean, it was made in 2016, so it's a little embarrassing, but it's golden hangover viewing and the ultimate nostalgia throwback. It even stars the show's original host, Kirk Fogg, as a fictionalised version of himself.
[ad-f]
This might be my last article for The Hook, FYI. Sad times, I know. But the good news is you might catch me on Legends of the Hidden Temple at some point next year – living out some lifelong Indiana Jones fantasies.
I don't even know if I'm joking, tbh. 
Images via Legends of the Hidden Temple/Facebook and Nickelodeon
[ad-g]
Having worked in children's media and publishing for almost a decade, Ben is thoroughly excited to now be able to swear in stories and features. He is such a big fan of Disney and Horror films that he started an LGBTQ+ podcast called 'Once Upon A Scream'. His mum listens. You can contact Ben at [email protected] Twitter: @PulsfordBen / Instagram: @thebenmidler