A first-look at Lucifer Season 5 has been leaked online and some fans reckon it's a glimpse at the musical episode
A musical ep of Lucifer?! Just take my soul now.
If there's one thing I've learned from working in the entertainment industry for over a decade, it's the following: don't make deals with Devil and don't p**s off Netflix. This story kind of falls into both of those, so I'm going to tread extra carefully as I report this gem to you, 'lucifans'.
[ad-a]
We have our first unofficial look at Lucifer Season 5
The cast and crew of Netflix's Lucifer are busy working on Season 5 of the hit comedy/fantasy series, starring Tom Ellis.
Production is expected to take a little longer for this season, as the fifth and final season will include 16 episodes, as opposed to the usual 10. Also, as it is the final season, some reports have claimed that Netflix is likely to delay the actual release to really get us horny 'lucifans' nice and riled up.
I was being devilish with wordplay, get your mind out of the gutter.
[ad-b]
'Cause who isn't 'horny' for Lucifer?
It's safe to say that we've got a long wait ahead of us before we even get a glimpse at a full-on official teaser for Season 5 of Lucifer. But I think we're all hoping it looks a bit like this…
If not exactly.
Christ.
Or, Lucifer, I guess.
[ad-c]
TikTok user shares footage of Lucifer Season 5 being filmed at his school
It's hardly Tom Ellis walking in slow mo, wet in teeny trunks, but one 'lucifan' did manage to actually capture footage of a scene for a season 5 ep being filmed at his school recently. So jel. Hollywood never came to visit us. Actually, that's a lie. I was at school when The Holiday was being filmed down the road, but Tom Ellis was never there.
The clip, originally filmed by TikTok user @andretrujillo0345 shows Tom Ellis, who plays the titular role on the hit Netflix show, dancing on an American football field with athletes and cheerleaders.
[ad-d]
Fans reckon this could be part of the hotly-anticipated musical episode
The TikTok user captioned his clip as follows:
"So they were filming LUCIFER at our school for season 5 and wait til the end."
As the clip clearly shows a choreographed number of sorts, many fans have assumed that this a sneak peek at the hotly-anticipated musical episode. Producers have already confirmed that episode 10 of the 16-part series will be a musical episode called Bloody Celestial Karaoke Jam.
[ad-e]
Yes, a musical episode of Lucifer is happening
Last month, showrunners Ildy Modrovich and Joe Henderson told Entertainment Weekly:
"We wanted to have a real grounded story reason why they're signing and dancing, and not just, 'Oh, this is going to be the one where everybody sings and dance.'

"It's been a little game of Tetris [making the episode work/fit] but it's super fun. It's going to be amazing. It's going to be just such a bucket list thing for me."
I'm sure it'll be good, but I can tell you right now what it won't be as good as…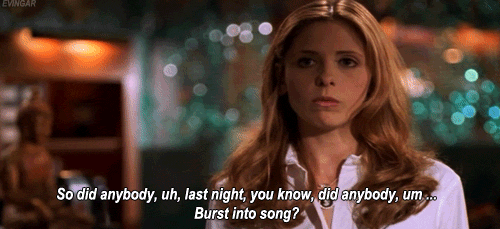 His footage also shows Lucifer series regular, Laura German, who plays Detective Chloe Decker on the show filming scenes on the football field.
The TikTok video has been liked over 593,000 times and been shared countless times across other social media platforms, setting tongues wagging.
[ad-f]
Previously on Lucifer…
Lucifer follows the story of the God's least-favourite son, Lucifer, who decides to take a holiday to Los Angeles, leaving Hell behind. If I carry on from there, we're heading into spoiler territory and you hate those.
Should you want a Seasons 1-4 refresher, these vids should help.
[ad-g]
[ad-h]
FYI, this video was this kid's first TikTok post.
I suppose there's a chance the new TikTok user made a deal with Devil to boost his following, but who here hasn't done that? Whether you're damned or not, hon – we thank you.
Images via Netflix, TikTok and Twitter