Man Confronts Rioters Attacking His Car With Insane Wolverine-Style Claw
An old man warded off rioters attacking his car with some weird Wolverine claws that look like they came out of a Zack Snyder/Michael Bay film.
Honestly, America is ridiculous. Everyone's got a weapon and everyone's weapon is fully capable of killing someone if you do so much as drop it near them. I don't know how anyone gets anything done or even sleeps there.
For the most part, the weapons are guns which are pretty bad, but this one is somehow more menacing, as on old guy was filmed running around with some Wolverine claws strapped to his arm.
To the man's credit, he wasn't being anti protest per se, he was just being anti people attacking his car and more to his credit, he got rid of them.
I've got to say, I really love this video.
You've got these kids protesting for black lives matter – which is great – but then they seem to be taking advantage of the cause to just cause general anarchy. All I see there is a pack of spoilt white kids who want to throw shit in protest of the police, but the second things go pear shaped, they shout for someone to 'call the police'.
It's beautiful. Like George Lucas once said; "It's like poetry… they- they rhyme."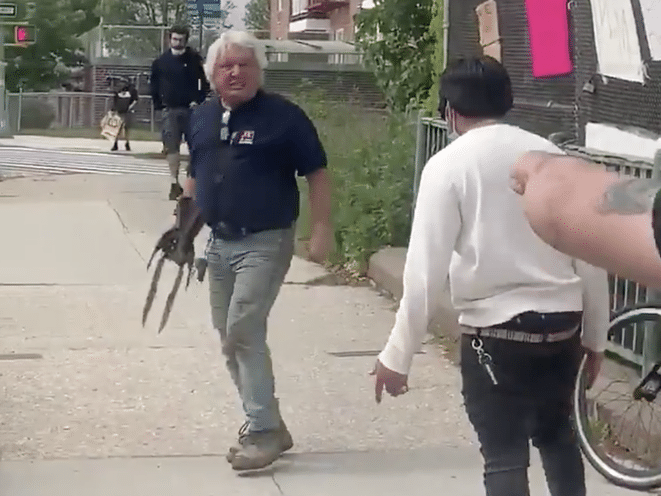 A lot of animosity is being shown towards the chap in the car, with people saying that he was lashing out at Black Lives Matter peaceful protesters, but the way I see it, they were just being idiots who didn't care too much for the cause and wanted to get out of the house.
The NYPD said in a statement:
"A 23-year-old male reported to police that an unidentified individual exited a vehicle with a sharp object and displayed it to a crowd that was peacefully protesting and fled in a vehicle described as a grey SUV mercury.

"There were no reported injuries as a result, no arrests at this time and the investigation is ongoing".
What a world.
Images via Twitter
Alfie Powell joined as an apprentice and was probably hired because he was likely the only person who applied. He's been blagging his way through writing articles for four years now and he's definitely showing signs of slowing down. When not writing for The Hook, Alfie finds time to indulge in his favourite hobbies, such as drinking and sitting down.