Man Paraglides While Watching TV On His Living Room Sofa
A man has gone viral after he paragliding from a cliff while sitting on his sofa and watching TV.
Let's be honest here, you see people skydiving and they don't look even slightly cool; falling there in their neon jumpsuits with some person who actually knows what they're doing strapped to their back. Ridiculous.
This is far better.
Sometimes when it's really nice weather out, I feel bad for wanting to stay indoors and watch a film. I know that because I'm in England, there will be very little chance that the weather will be equally nice tomorrow and maybe I should put off watching this film.
By the looks of things, this guy has found the perfect middle ground, as he decided to paraglide down from a cliff while sitting on his sofa, having a drink and watching TV.
Uçan Koltuk is the man in question who enjoyed the sights as he flew over the coast in Turkey and as I said, he literally just sat there on his sofa and chilled out. You have to admire the sheer audacity of the chap.
Now, as you may have worked out since he wasn't weighed down by a huge generator, the TV wasn't actually connected to anything, but it's the thought that counts, isn't it?
He could have had it powered by some kind of wind turbine when you think about it, couldn't he? But then again, I really don't know the logistics of all of this.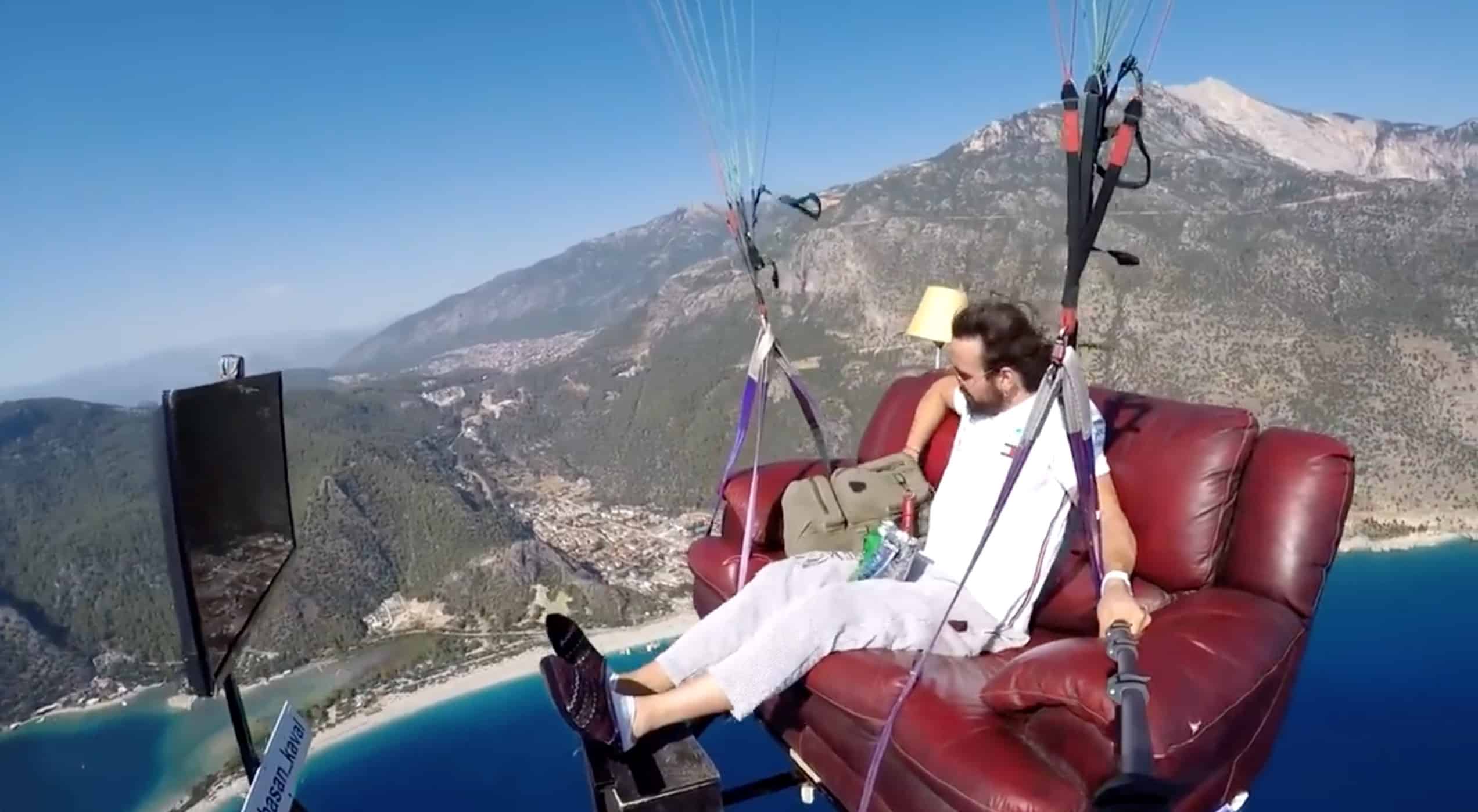 I like that he thought to have a lamp on the table beside him, just in case he fancied doing some night gliding. Night gliding sounds pretty cool actually, doesn't it? Like the name of some kind of London Grammar album.
God I haven't thought about London Grammar for a long time, actually. Weird that I should bring them up when talking about Night Gliding.
Anyway, good luck to Koltuk. He seems to have things all worked out.
Images via YouTube
Alfie Powell joined as an apprentice and was probably hired because he was likely the only person who applied. He's been blagging his way through writing articles for four years now and he's definitely showing signs of slowing down. When not writing for The Hook, Alfie finds time to indulge in his favourite hobbies, such as drinking and sitting down.