A digital artist has created a Baby Jabba The Hutt in the style of Baby Yoda and social media can't handle
You will soon learn to appreciate him.
[ad-a]
I'm struggling with my adjectives for this one. I've been staring at Baby Jabba for 15 minutes now and I genuinely don't know whether he's cute or creepy AF. Perhaps a little background on this one will help you and me…
Baby Yoda has inspired a Baby Jabba The Hutt
In the wake of the success of Disney+'s Baby Yoda, it's hardly surprising that digital artists would be keen to jump on the Baby Yoda bandwagon. After all, in just a few weeks, Baby Yoda – or technically 'The Child' if you're actually watching The Mandalorian – has become one of the biggest memes of 2019 and one of the most talked about things on social media. And don't get my started on the new merchandise. Holy sh*t, the new merch.
And understandably. Just look at him.
[ad-b]
Digital artist Saby Menyhei's 'Baby Jabba The Hutt'
One digital artist in particular has gathered plenty of attention this week for creating a 'Baby Jabba The Hutt', inspired by Baby Yoda. Artist Saby Menyhei recently released an image of his creation on his ArtStation page. Naturally, the internet caught wind and soon enough, the image blew up Death Star-style, giving our Baby Yoda a run for his cute money-making face.
[ad-c]
FYI, Jabba The Hutt is a large, sluggish alien known as a Hutt who operates as a powerful crime lord within the galaxy in the Star Wars universe. The villain first appeared in Return of the Jedi in 1983 and yeah, was far from cute, so kudos to Menyhei for this digital wizardry. Maybe he could work some similar magic on my Tinder profile?
Menyhei's image shows Jabba as an adorable (ooh, there it is – he must be cute) little baby criminal, sporting similar baby doe-eyes to Baby Yoda. I say 'baby criminal' because Baby Jabba can clearly be seen holding a Princess Leia toy hostage – a clever nod to this little guy's questionable future.
[ad-d]
An even cuter Baby Jabba The Hutt?!
To be honest, I'm not the biggest Star Wars fans, but I do appreciate spoofing and cute things (hence why I'm writing this), so I was quite happy to plunge myself down this rabbit hole. During my research I actually managed to find another newly-released Baby Jabba, who I dare say is cuter than Menyhei's version.
This Baby Jabba – created by 3D artist Leonardo Viti – earns points for cuteness, but loses points 'cause it's basically just Baby from Dinosaurs.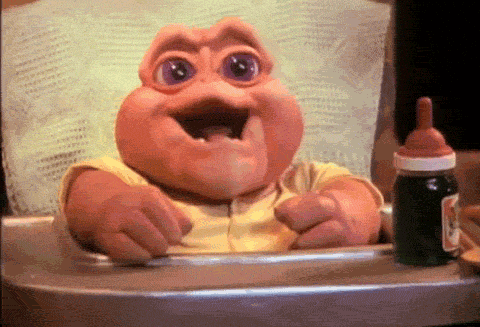 You can check out more of Leonardo's art on his ArtStation page.
[ad-e]
And then there's this…
While down this rabbit hole, I also stumbled across this unique image (by @beeple on Twitter) showing a group of Baby Yoda's chowing down on a Jabba carcass – and it's deeply disturbing. Almost what I imagine a grittier, modern remake of Gremlins (don't ever do it) might look like.
Baby Jabba's looking a whole lot cuter now, huh?
[ad-f]
I can't wait to see if one of these digital Jedi's manages to make Jar Jar Binks look not just younger and cuter, but somehow, less painfully annoying. That would be a feat.
Images via Disney, Getty, Saby Menyhei, Leonardo Viti, @beeple