Ice-cream: it's one of life's little pleasures and as a species we love it in its vast array of experimental flavours.
Back when I was a kid, Neapolitan ice-cream blocks were about as exciting as things got down at the ice-cream parlour, consisting of three separate flavours arranged side by side in the same container.
Now, with wild colours and different flavour fusions, the ice-cream market is worth a whopping £1.1bn a year (2019), with analysts who track grocery market trends saying that ice-cream has become a "goldmine" for food manufacturers as consumers became more adventurous in their tastes.
Isobel Bourke, an analyst at Kantar said: "Shoppers are really open to trying new things, and that makes it a goldmine for manufacturers who can have more confidence in bringing out new products".
With that being said, major market player, M&S, synonymous with industry leading quality, exceptional sourcing and famous innovation, have noted the success of their Percy Pig dessert sauce that everyone went mad for a few months ago, and launched a new Percy Pig ice-cream treat.
And apparently it's sure to have you salivating at its 'ripples of fruit sauce and chewy strawberry marshmallows'.
And it's only £3 a tub, making it substantially cheaper than the likes of Ben & Jerry's.
Speaking on the release of the product, April Preston, Director of Product Development said: "Customers have been asking us for a Percy Pig ice-cream for a long time now, so we're very pleased to be able to introduce one at a time when we could all use a little pick me up".
"Percy Pig is loved by so many, so when we develop a new Percy product, we have to ensure every element of the flavour and texture is synonymous with what our loyal fans expect".
"This velvety smooth ice-cream gives that famous Percy Pig flavour, combined with the soft chewy texture of marshmallow. I love two scoops with an extra sprinkling of mini marshmallows on top and a good rom-com", April added.
Percy Pig products started life as a delicious sweet range of soft gums made with real fruit juice and the porky pig has been 'an integral part of M&S for more than 25 years and is adored by kids and adults alike'.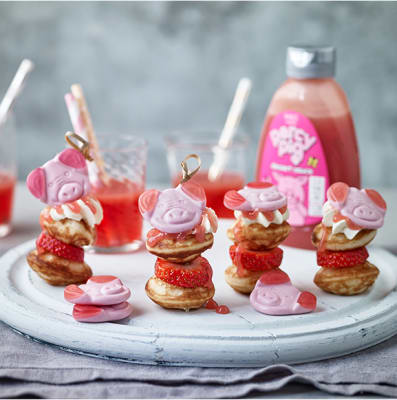 This year, Percy treats went completely vegetarian and all treats with green ears are gelatine free.
If the Percy Pig dessert sauce is anything to go by we just know the ice-cream is going to be phenomenal.
Imagine them both combined.
I actually can't cope.
This is definitely going on my list of essentials for the next time I'm out grocery shopping!
Make sure you grab yours.