New App Lets You Watch Netflix With Your Friends While In Self-Isolation
Last night my friends and I arranged to convene around my house to watch a few films and have a few beers but before I left to pick them up, I remembered the whole self-isolation, social distancing thing, and then we all agreed that we should probably stay in our respective homes.
A disappointment, for sure, and not one that looks like could be solved in quite some time. Instead I watched Alan Partridge: Alpha Papa with my dad and hey, that was a lot of fun.
Until all of this Coronavirus nonsense blows over though, it looks like my friends and I will have to come up with a new way to watch films – and sometimes episodes of Kojak – together.
Happily, it looks like there's a solution, and that comes in the shape of a Google Chrome extension that allows you to create a watch party when you're on Netflix so you and your chosen friends can watch the same thing.
Now obviously you can just choose to watch things at the same time as your friends and message them without the use of this app, but the added benefits of Netflix Party are that it makes sure that everyone's stream is absolutely in sync and pauses others if you or someone else decides to do so.
On top of that, there's also a chat bar on the side of the stream – similar to those annoying ones that pop up when you're trying to stream a football game online – so you and your friends can talk about the show or film you're watching.
The description on Netflix Party's website reads:
"Netflix Party is a new way to watch Netflix with your friends online. Netflix Party synchronises video playback and adds group chat to your favourite Netflix shows.

"Join over 500,000 people and use Netflix Party to link up with friends and host long-distance movie nights and TV watch parties today!"
To download it, follow this link and select 'Install Netflix Party'. You'll then find yourself on the Chrome Store, where you can install the plugin for free.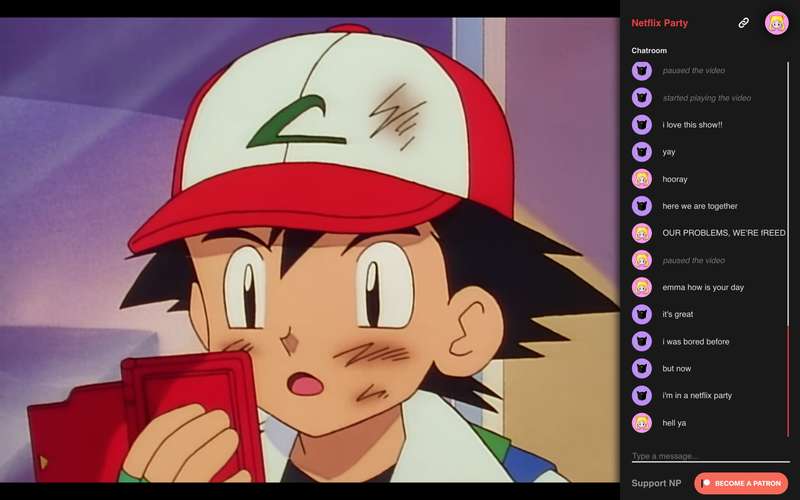 Once you've downloaded it, you can then start watching Netflix as usual and when you want to start a viewing party, click the icon next to the address bar on Chrome.
Click on "Start Party", and then a unique URL will be created that you can send to your friends. Once the hit that link, they'll then be taken to the Netflix show or film you're watching and when they click the same icon next to the address bar, they'll join the viewing party.
Happy viewing!
Images via Netflix
Alfie Powell joined as an apprentice and was probably hired because he was likely the only person who applied. He's been blagging his way through writing articles for four years now and he's definitely showing signs of slowing down. When not writing for The Hook, Alfie finds time to indulge in his favourite hobbies, such as drinking and sitting down. You can contact Alfie at [email protected]