Nickelodeon Aired A Powerful Black Lives Matter Statement And People Are Praising Them
Nickelodeon were one of the many brands to observe Blackout Tuesday yesterday as they aired a powerful statement about the murder of George Floyd.
People and brands alike pulled together to give the Black Lives Matter movement their support and in general, everyone but Donald Trump and his US Police Force are on board.
One of the brands was Nickelodeon who, despite them being a purely child-aimed company, took a wonderful stand and posted a powerful message at 6 p.m. EST.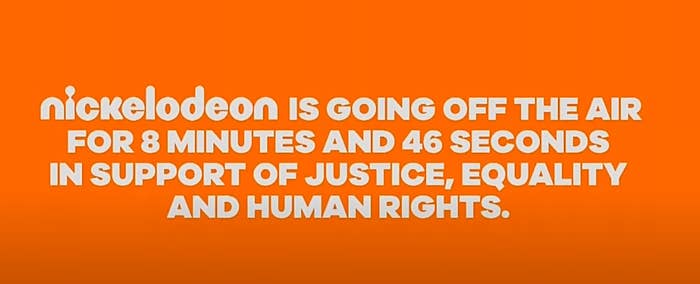 The children's entertainment video aired a powerful video that ran for 8 minutes and 46 seconds, which is the exact amount of time that George Floyd was pinned to the ground with Officer Derek Chauvin's knee on his neck.
The video itself was just a black screen with the words "I can't breathe," all the while you could hear breathing in the background.
The TV channel also updated their Declaration of Kids' Rights for the first time in 30 years…
The declaration reads:
"You have the right to be seen, heard and respected as a citizen of the world.

"You have the right to a world that is peaceful.

"You have the right to be treated with equality, regardless of the colour of your skin.

"You have the right to be protected from harm, injustice, and hatred.

"You have the right to an education that prepared you to run the world.

"You have the right to your opinions and feelings, even if others don't agree with them".
Some people were angry with Nickelodeon as it allegedly scared their children; a video of a black screen accompanied by some ominous breathing is quite ominous, but it's a very important point that needs to be made to children so they can learn young.
One tweet regarding that very stance, from Patrick Scott Patterson, read:
"People griping at Nickelodeon for the "I Can't Breathe" spot. Claiming that it's "not the right platform" & that it is scaring their children

"It should scare your children.

"If they learn of injustice from a cable network instead of their parents then that's on the parents".
Well done Nickelodeon.
Images via Nickelodeon, Twitter
Alfie Powell joined as an apprentice and was probably hired because he was likely the only person who applied. He's been blagging his way through writing articles for four years now and he's definitely showing signs of slowing down. When not writing for The Hook, Alfie finds time to indulge in his favourite hobbies, such as drinking and sitting down.