Gone are the days when news was spread about Nicolas Cage playing Nicolas Cage in a film about Nicolas Cage, as now we can enjoy Nicolas Cage playing Joe Exotic in a series about Joe Exotic.
Perhaps it's time for a career renaissance for the veteran actor as he takes on a role that will definitely see people flocking to see it.
Keanu Reeves, Michael Keaton and Matthew McConaughey are all actors who previously enjoyed a career renaissance, so it's not out of the question that Nicolas Cage could all of a sudden see himself once again at the pinnacle of entertainment.
The only issue is that the three actors I mentioned before were never memes and as we all know, Cage is one of the biggest memes going.
It would be hard to completely turn his image around, but these days I suppose anything is possible. The man can act when he wants to – genuinely – but he often takes terrible roles just for the paycheques and phones the entire performance in.
Joe Exotic is the perfect role for him. We can all see that.
The scripted series will come courtesy of CBS and will follow the life of the man now behind bars, focusing on how he went from being Joe Schreibvogel to becoming Joe Exotic.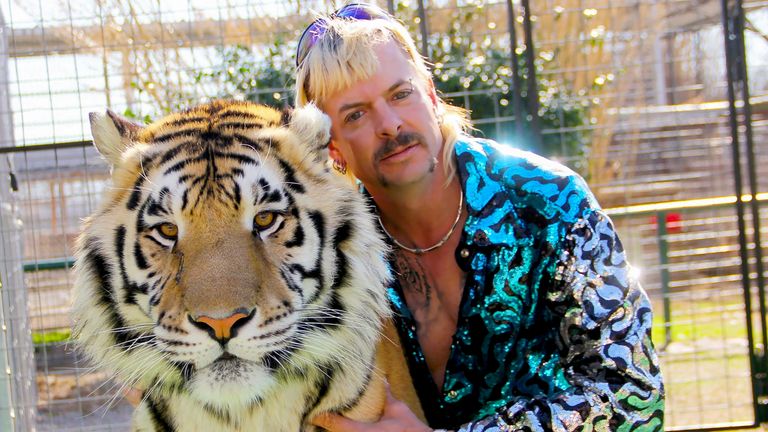 The series will also focus on Exotic's efforts to keep his wildlife park open and if you watched the Netflix documentary, you'll know that he went to some pretty extreme lengths to do that.
You have to assume that this will also feature one Carole Baskin, who was famously Joe's nemesis before he got put behind bars. My recommendation for the woman to play her would be whoever Joe got for the music video of Here Kitty Kitty. That was pretty great casting.
Variety reported that the rights to the series were acquired by Dan Lagana (American Vandal) in June last year and it will be based on Leif Reigstad's articles in Texas Monthly entitled Joe Exotic: A Dark Journey Into The World Of a Man Gone Wild.
It's also Cage's first ever appearance in a television series – which is pretty neat.
Meanwhile, Exotic himself wants one of Brad Pitt or David Spade to play him, as Tiger King creators Eric Goode and Rebecca Chaikin told The Hollywood Reporter:
"He would like Brad Pitt or David Spade to play him.

"He doesn't refer to David Spade as David Spade — he refers to him as 'Joe Dirt'."
Joe Dirt is a film of Spade's where he had a massive mullet. You can see why Exotic picked that one.
We'll keep you updated.
Images via Netflix, Warner Bros