People Are Realising How Unfit They Are After Tuning In To Joe Wicks' Live PE Lessons
Joe Wicks' PE Lessons are making adults realise how unfit they are as they join in with their children trying to keep fit.
As schools all over the country are closed, the famous life coach, dietitian and general fit guy has endeavoured to help out, by offering free PE classes to children every morning.
PE lessons are taking place every Monday-Friday at 9am via Joe Wicks' YouTube channel, The Body CoachTV, and last half an hour, which he says are aimed at "little kids right up to secondary school".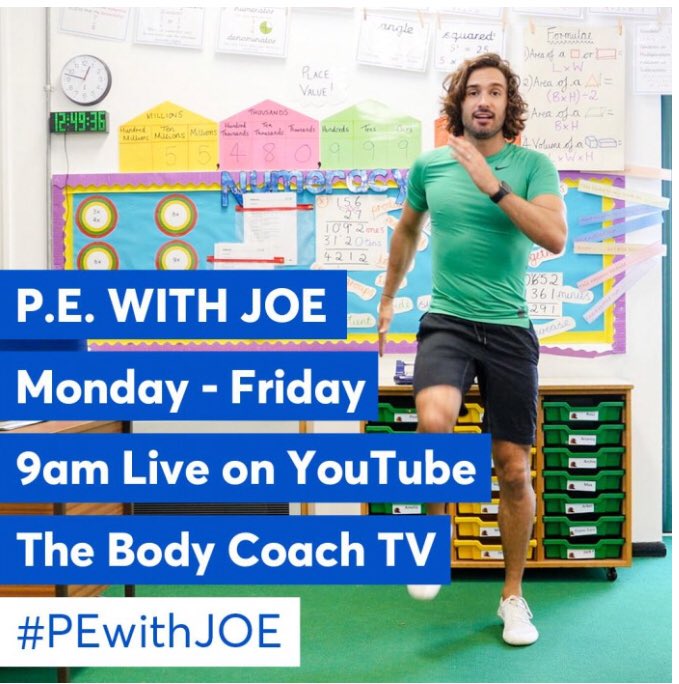 He explained during his announcement:
"It's a workout designed specifically for kids because when the schools are closed there is no PE.

"Don't worry, I've got you. I'm going to take this over.

"I'm going to get your kids moving, feeling energised, positive, optimistic."
A very noble cause, but ignoring his advice, various parents are getting involved with the action.
People have taken to Twitter to share their experiences of Joe Wicks' morning classes, and it's more or less fair to say that they're knackered.
I broke my arm when I was 13 and was overjoyed that I didn't have to get involved with the not-football sports my school was offering. With that, over a summer, I got stupidly unfit and never really recovered.
Over the last month or so of working from, I've been going on almost daily runs and I want to say that this is probably the fittest I've ever been.
It's weird. I definitely don't like this lockdown even slightly – I quite miss my girlfriend – but all of this working from home is making a lot of people a lot fitter with all of the extra time they have.
Taking to Twitter, Joe Wicks thanked everyone for taking part in his online PE class, saying:
"Thank you to everyone that just took part. Incredible to think that millions of us where all exercising together all around the world"
There were a few emojis in that message, but you get the gist.
Images via Twitter, YouTube
Alfie Powell joined as an apprentice and was probably hired because he was likely the only person who applied. He's been blagging his way through writing articles for four years now and he's definitely showing signs of slowing down. When not writing for The Hook, Alfie finds time to indulge in his favourite hobbies, such as drinking and sitting down. You can contact Alfie at [email protected]