Priest Shoots Baby With Water Pistol To Baptise It
Yet another priest has gone viral after he decide to baptise a baby with water pistol.
I don't get this at all. What is the point in getting your baby baptised during all of this? Just wait until it's over and then send them to a church. I won't bother going into my qualms with baptism in general, but this is very much beyond me.
This comes after A PRIEST WAS SEEN SHOOTING A BABY IN THE FACE with a water pistol UNTIL IT WAS DEAD certain that it was a Catholic.
What a headline. Priest shoots baby.
Sadly no-one really knows where this picture was taken – except for the person who took the picture and those who were in it – so we just have to assume that it's somewhere in America. I get the impression that it's within that country, but who knows? I could be wrong.
The priest can be seen pointing a water pistol at the infant – in ceremonial dress – who's being held out at an arm's length by its mother, with the priest then shooting it. Just as god intended, innit?
They could have Jesused the old water pistol up a bit, couldn't they? You can probably buy a water pistol that's in the shape of a crucifix or something?
I can't find one, but I'm sure the Catholic Church with their immense wealth could afford to commission a few or failing that, put a Jesus sticker on the gun or buy one of these…
It says it's a llama, but I reckon you could pass it off as a sheep or a "lamb of god".
Make no mistake though, I did not lie when I said 'Priest shoots baby'.
This was echoed by one priest who was seen blessing his congregation in a more-or-less drive-thru church, as he shot people through their car windows with a water gun.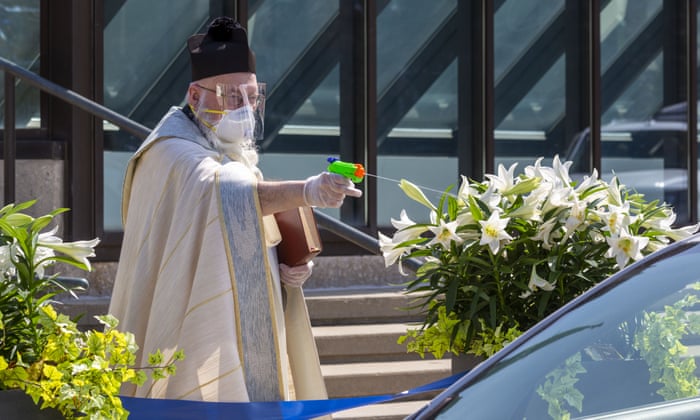 Bizarrely, this photograph was actually taken over Easter, but it's only taken up until now for it to resurface and become one of the memes of the moment. That's the thing with the internet, isn't it? You think things are new and then they slap you in the face by being a couple of months old. Sickening.
After he saw that the images had gone viral, Reverend Pelc told Buzzfeed News that while he was worried what the Vatican might think about his methods, he assured that he was yet to hear anything, saying:
"I haven't heard anything yet".
That's good then. Glad to see that the pope isn't getting on his back about shooting his churchgoers.
Speaking of his methods and regulars, Pelc explained that he has a "pretty wacky mind and pretty accepting congregation," so that probably also works in his favour. With that said, imagine being so insulted by something your priest did that you reported him to the pope. You'd have to be really mad, wouldn't you?
But then what if the pope does something you're not a fan of? You'd have to report him to god. Goes all the way to the top, this one. Would be annoying if you finally got to chat to god about it and he ends up shooting you with a gun full of holy water.
He probably wouldn't do that, though. Probably.
We'll see.
Images via Twitter, Facebook, Maple
Alfie Powell joined as an apprentice and was probably hired because he was likely the only person who applied. He's been blagging his way through writing articles for four years now and he's definitely showing signs of slowing down. When not writing for The Hook, Alfie finds time to indulge in his favourite hobbies, such as drinking and sitting down.