Robin Williams' Daughter Just Got The Genie On The Disney Filter
Robin Williams' daughter got Genie on the viral Disney Instagram filter and social media is loving it
APPLAUSE.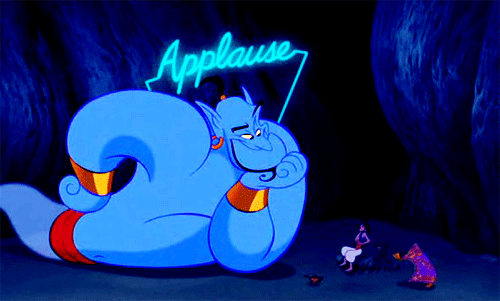 These are exactly the kind of feels I needed on the 2nd January, aka the most miserable day of the year.
[ad-a]
'Which character are you?' Instagram filters are EVERYWHERE
If you've checked out Instagram stories lately, chances are you've stumbled across the new story filter craze sweeping the social sphere right now. Each story filter – individually created by Instagram users – allows you to find out which character you'd be from a specific famous franchise e.g. Disney, Pokémon, Harry Potter, RuPaul's Drag Race. I really don't need to go through this do, I? I mean if you own a smartphone then it's likely you've just finished being inundated with half-naked Top Nines, 10 year challenge pics, not to mention cathartic New Year posts and now you're being inundated by endless character assignment posts. The big ones are 'Which Disney?', 'Find out which Pokemon you are', 'Harry Potter test' and my personal fave, 'Spirit Drag Queen'.
It's about time we all went back to work, isn't it?
[ad-b]
I got Genie and Bianca Del Rio… accurate
I didn't try the Pokémon one, 'cause if I get called Snorlax, I'll hate myself more than I already do this month (December was a haze of cheese boards and alcohol). But I did try the Disney filter and the drag queen filter and can reveal that I got Genie and Bianca Del Rio. And honestly… scarily accurate. You see why I can't risk the Pokémon one, though.
Zelda Williams just won the filter game
Another person to get Genie while using the 'Which Disney?' filter was Zelda Williams, daughter of the late Robin Williams, who has without a doubt just won this filter game, so might as well all hop on to some other digital bandwagon.
[ad-c]
Robin Williams was, of course, the legendary voice actor behind Disney's Aladdin (1992) and star of such films as Mrs Doubtfire, Jumanji, Hook, Flubber, and my personal favourite, The Birdcage. If you're three decades old as I am, then this man was your childhood, which is what made his untimely death in 2014 so tragic for so many.
Zelda Williams got the Genie on that Disney filter and people are feeling things
Of course, plenty of our favourite celebs have been jumping on this new filter trend, but in our eyes, 30-year-old Zelda has outdone all of them with this gem.
Just sit back and soak up the feels.
[ad-d]
That cackle as the filter lands on the character her dad voiced almost 30 years ago totally gets me, 'cause that's exactly how her dad would've reacted to this. Also, there are a fair few Disney characters that can get randomly assigned to you when you use this filter, so for Zelda to actually be given the Genie feels kind of magical.
Naturally, the internet LOVED.
"Dad's saying hi"
One Twitter user wrote:
"Your not the first person whose parents give you signs that they are watching you my dad is a similar thing he lets my family know he is watching us by leaving white feathers behind and his favourite number seen randomly. #AutismAwareness #gaurdianangel."
Another tweeted:
"Dad's saying hi."
Yep, that one got me.
[ad-e]
Another wrote:
"What are the chances? I like to imagine that was your dad's doing, making you laugh to this day!"
And, of course, the GIF responses came out to play, too.
[ad-f]
I'm not crying, you're crying.
More of this on the internet in 2020, please. 
Images via Disney, Twitter and Getty
Having worked in children's media and publishing for almost a decade, Ben is thoroughly excited to now be able to swear in stories and features. He is such a big fan of Disney and Horror films that he started an LGBTQ+ podcast called 'Once Upon A Scream'. His mum listens. You can contact Ben at [email protected] Twitter: @PulsfordBen / Instagram: @thebenmidler