Sex Education Season 3 Is Coming, Confirm Netflix
Sex Education season 3 is happening as Netflix confirm that we can expect more from Otis and the gang.
Moordale High is a ridiculous place, stuck between space and time, not conforming to any time in history, nor any location known to man. It's also full of teenagers that actually have sex lives, unlike the ones that we all grew up knowing/being.
Season 2 was essentially much of the same after season 1, which is to be commended since season 1 was really good, but now that Sex Education season 3 has been confirmed, we're all desperate to know what's next for Otis, Eric and everyone else.
Netflix announced the good news on their YouTube and Twitter channels with a video captioned:
"Alistair Petrie guides us through the Moordale High art exhibition, with a surprise revelation at the end. Sex Education Season 3 is coming"
Show-creator Laurie Nunn previously spoke to LADbible about season 3, saying:
"I've started writing series three, but that's just a very normal part of the process because we work on such tight schedule, and season three hasn't been greenlit yet or officially commissioned.
"We won't find out whether we get a series three until the end of January, so fingers crossed!"
Everyone who watched it loved Sex Education even if, like me, they didn't want to. I'm not 100% sure why I didn't want to, but at first glance, it seemed a little try-hard.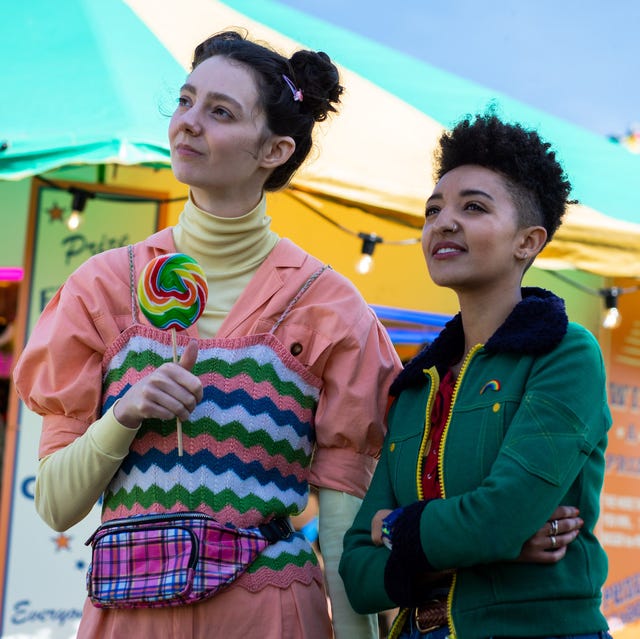 To a degree I stand by that. It did try very hard to be different and zany and """"woke"""" but you can't begrudge a TV show of that, especially when so much content is so paint by numbers these days. Bring on Sex Education season 3.
Hold on, what's season 2 about though?
As Netflix put it:
"In season 2, as a late bloomer Otis must master his newly discovered sexual urges in order to progress with his girlfriend Ola whilst also dealing with his now strained relationship with Maeve.

"Meanwhile, Moordale Secondary is in the throes of a Chlamydia outbreak, highlighting the need for better sex education at the school and new kids come to town who will challenge the status quo. Maeve and Aimee's BFF relationship is stronger than ever since Aimee ditched 'the Untouchables'.
"Eric notices his new-found self-confidence attracting unfamiliar kinds of attention. Adam is at military school, still conflicted by his feelings for Eric.

"Lily has hit pause on her sexual endeavours to focus on her creative talents and finds a newfound friend in Ola.

"Jackson is forced to flex his mental rather than physical muscle and is still buckling under the pressure from his parents to succeed.

"Jean and Jakob's relationship is discovered and they have to learn how to operate as a blended family. Jean forms an unlikely connection with Mrs Groff and a friendship between the two women begins to form."
It's about a lot, basically.
Alfie Powell joined as an apprentice and was probably hired because he was likely the only person who applied. He's been blagging his way through writing articles for four years now and he's definitely showing signs of slowing down. When not writing for The Hook, Alfie finds time to indulge in his favourite hobbies, such as drinking and sitting down. You can contact Alfie at [email protected]