Slowthai Apologises After Harassing Katherine Ryan At NME Awards
25-year old rapper, Slowthai has issued a public apology for his 'shameful actions' to comedian, Katherine Ryan after making sexual comments towards her at the NME Awards.
What allegedly "started as a joke between [them]" soon "escalated to a point of shameful actions" on Slowthai's part, he says.
[ad-a]
The rapper has issued the apology asking NME to "forward" his "award" to Katherine despite Katherine insisting it "didn't make [her] uncomfortable" – this comes after a huge backlash both online and in the media for his actions.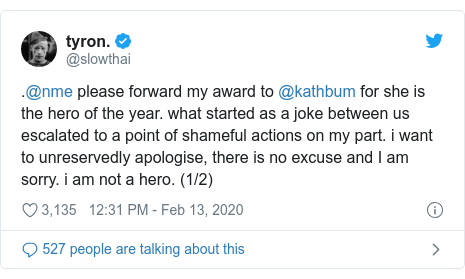 Slowthai also apologised to anyone who "saw a reflection of situations they've been in" in the videos shared online.
[ad-b]
He says he is "not a hero" after receiving the award for hero of the year which was voted for by the public.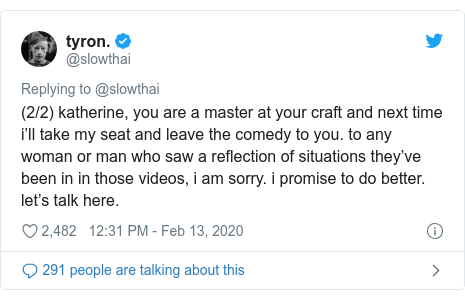 Katherine was quick to respond on Twitter saying: "I knew you were joking and congratulations on your very award-worthy album! I hope you know that a bad day on social media passes so quickly. Everything will be better tomorrow. Xx".
[ad-c]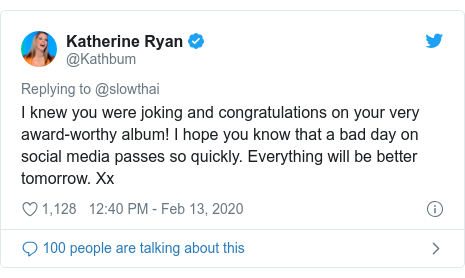 If you haven't yet got all the deets on what went down, it all started with Slowthai wrapping his arms around Katherine for a cuddle as she co-hosted the awards Slowthai said:
"Babygirl, I don't want to have to do this to you right now, but everybody – she needs to understand the levels right now".
This was after he insisted, she smell his cologne.
[ad-d]
In the background you can hear co-host, Julie Adenuga saying: "What is happening?". 
"If you want to do something, see me later", he added before walking off.
Later the pair were reunited on stage once more with Slowthai telling the crowd: "She wants me to tend to her flowers".
Katherine responded sarcastically saying that she "loves" him.
"Thank you for the attention", she said.
"You are younger than my babysitter", she added as he left the stage.
[ad-e]
Can you blame the kid for trying?
Perhaps it was all a little tongue in cheek, but many viewers were left seemingly unimpressed despite Katherine saying she wasn't uncomfortable with Slowthai's comments.
Even NME crowds couldn't hide their disgust with one grabbing Slowthai's dropped microphone as he was heckled off stage calling him a "wasteman".
[ad-f]
Slowthai took centre stage in a huff saying "NME, thank you" before adding: "Thank you for ruining my speech" and then dropped his mic from the stage.
The crowds could then be seen jeering, lobbing his mic back at him alongside various other objects.
This proceeds to wind Slowthai up and he make moves towards the front of the crowd before throwing a drink and aggressively dropping down into the fray before being held back by security.
Metropolitan police have confirmed that no complaints were made, and police did not attend the event with no investigation needed into what happened.
[ad-g]
But his actions have not gone unnoticed with his invitation to be ambassador of next month's Record Store Day being withdrawn.
In a statement they said: "The individual record shops who organise Record Store Day have spoken this morning and have unanimously agreed that Slowthai's behaviour and statements do not reflect their values or those of Record Store Day".
Images via Twitter, Getty