The BLM Protest Statue That Replaced Edward Colston Has Been Removed
The statue of Black Lives Matter protester Jen Reid – that secretly replaced the toppled statue of slave trader Edward Colston – has been removed by the council, a day after it was put up.
It was only a matter of time before the bronze Colston was pulled down, it's just remarkable that it took so long to do so. Eventually, during the Black Lives Matter protests, it was toppled and yesterday it was replaced by something pretty powerful.
Just for a day, a statue stood on the empty plinth of a Black Lives Matter protester, which was made by Marc Quinn, who named it 'A Surge of Power'.
The woman who the statue was based on is Jen Reid, who stood on top of the plinth once the original statue was pulled down and showed her support for the movement by throwing her fist in the air. Quinn said he was able to "crystallise" the moment with his resin statue.
Sadly, the statue has since been taken down by Bristol Council officials, with contractors scene removing the statue at around 5:30 am this morning (on the 16th July).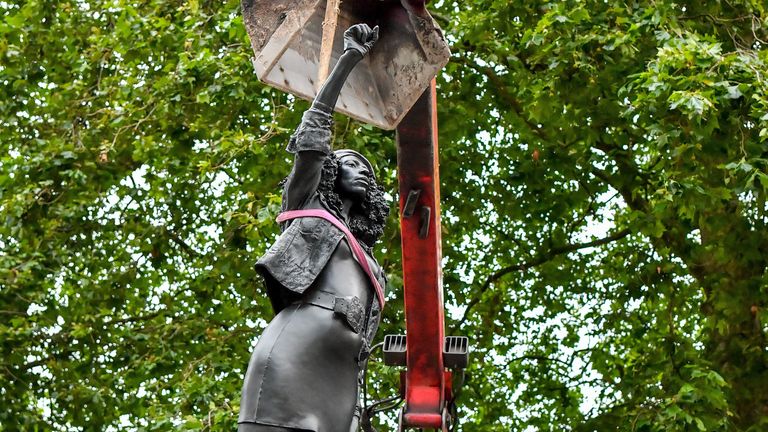 I'm not sure how anyone could sanction the removal of such a powerful statement in good conscience, but the local authorities cleared their actions up in a statement, saying that the statue would not be destroyed or anything of the sort, but rather celebrated:
"This morning we removed the sculpture. It will be held at our museum for the artist to collect or donate to our collection".
Furthermore, yesterday Mayor Marvin Rees tweeted in regards to the art piece, saying:
"I understand people want expression, but the statue has been put up without permission. Anything put on the plinth outside of the process we've put in place will have to be removed".
Speaking of his work, Marc Quinn, who is known for a number of works immortalising protests surrounding police killings of black people, told The Guardian:
"I've always felt it's part of my job to bring the world into art and art into the world.

"Jen created the sculpture when she stood on the plinth and raised her arm in the air. Now we're crystallising it".
He later added that he made it "extremely difficult to remove," though it appears his efforts were in vein.
Let's hope that whoever is chosen to dream up a new statue picks something equally powerful, if not just a bronze version of the resin Jen Reid that stood for a day.
Alfie Powell joined as an apprentice and was probably hired because he was likely the only person who applied. He's been blagging his way through writing articles for four years now and he's definitely showing signs of slowing down. When not writing for The Hook, Alfie finds time to indulge in his favourite hobbies, such as drinking and sitting down.