The Dumbest TV Clip Of The Decade Has Already Happened
Perhaps her face says it all, that expression speaks volumes when you've just given the dumbest answer of your life on national television.
Mastermind – a popular BBC quiz show, with an ominous black chair sees contestants sit a face to face series of challenging questions on both their specialism of choice and general knowledge topics.
Hosted by John Humphrys, the show even has a celebrity special where four 'well-known' faces (we didn't recognise her!) answer quick-fire questions to raise money for their individual chosen charities.
[ad-a]
In last night's Celebrity Mastermind aired on BBC Two, viewers were left in hysterics when Casualty actress, Amanda Henderson got one question in particular very wrong.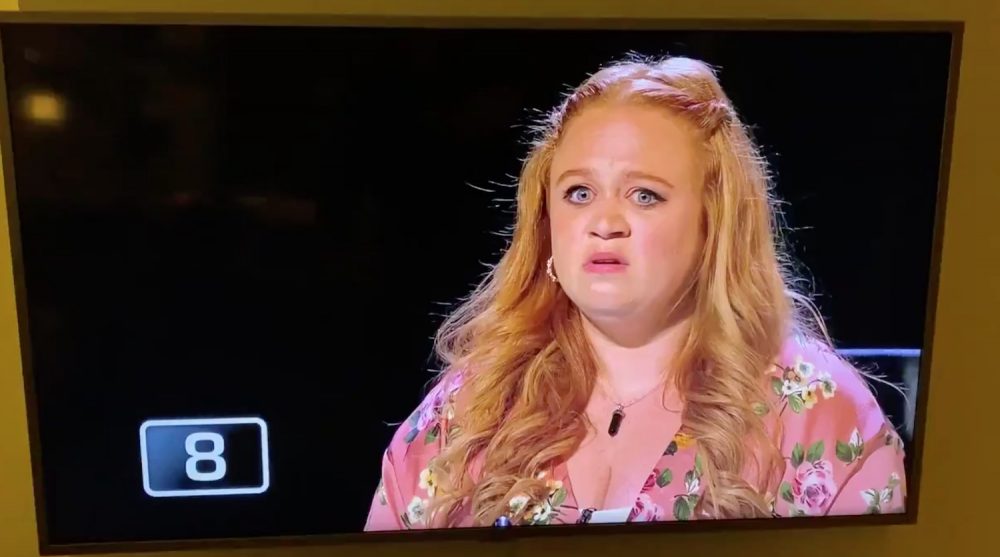 The 33-year old appeared on the show with her specialist subject – Disney songs from 1989 – 1999.
Says it all really.
[ad-b]
She even got a few of them wrong.
Moving onto the general knowledge round, a topical question had Amanda completely stumped.
The question asked was: "The 2019 book entitled No-one is Too Small to Make a Difference is a collection of speeches made by a Swedish climate change activist. What is her name?".
[ad-c]
Here's what she said:
SHARON?

It's Thunberg… Greta Thunberg!
You know, the young Swedish girl, always dresses somewhat like a tramp (no doubt conscious not to contribute to the disposability of the fast fashion industry), can be found irritating the hell out of world-leaders at the UN?! That climate change activist.
Palm to face.
[ad-d]
Sharon?!
Why Sharon?!
Who is Sharon?!
We're just as stumped as you as to where she plucked Sharon from as poor Amanda was on that question…
I mean, Greta was only recently named Time Magazine's Person of the Year for 2019 in December.
She's a legend.
[ad-e]
Almost immediately after the Twitter realm erupted, hailing it as a moment of TV gold – dubbing it the dumbest moment of the decade so far!
Not too difficult being only three days in, but hey ho.
One user wrote: "Sharon has to be the best quiz answer in 2020. Great start to the decade".
Radio One DJ, Nick Grimshaw tweeted: "#sharon is the answer to anything and everything in 2020".
Perhaps, Amanda was just thinking about BBC One's 'Enders, Sharon Mitchell and her recent dramas on the soap?!
Who knows.
[ad-f]
Here's a look back at some of the other dumbest TV quiz show answers over the years:
So many of those we love happen to feature ITV's Bradley Walsh, his puzzled expression and comical cackle.
[ad-g]
ITV's The Chase always has some golden moments. You can't help but love Brad.
With 2020 still unwritten it remains to be seen whether the 'Sharon' moment will keep its 'dumbest' moment title.
In fact, we are pretty sure it won't.
[ad-h]
British TV possesses the power to top it.