Woman Arrested For Pointing Gun At Black Woman And Her Teenage Daughter
A confrontation outside a Michigan Chipotle has led to the arrest of a white woman and her husband after she pointed a gun at a black woman and her daughter.
Video footage has now gone viral which showcases the huge escalation in an argument that resulted in a firearm being pointed at a mother and her daughter after a small collision.
The video shows an argument that started when a white woman seemingly walked into a 15-year-old black girl before refusing to apologise. The girl's mother then rushes to her defence, which then got very out of hand, involving the white woman's husband and eventually her gun.
According to Detroit News, 15-year-old Makayla Green was exiting a Chipotle in Orion Township when she collided with Jillian Wuestenberg. Green apparently then asked for an apology, which angered Wuestenberg, who began to start "cussing me out and saying things like I was invading her personal space".
Takelia Hill – Makayla's mother – then showed up, a shouting match began and in the video, you can hear Hill and Green accusing the couple of being racist. This didn't please the couple at all, you began berating the mother and daughter, saying:
"Who the f*ck do you think you guys are?

"You cannot just walk around calling white people racist. This is not that type of world. White people are not racist".
Bit of a blanket statement there.
The Wuestenbrergs then try to leave in their car, but Hill makes chase, slapping the car to get them to apologise for their actions. This was apparently too much for Jillian, who then ran out of her car, screaming and pointing a gun.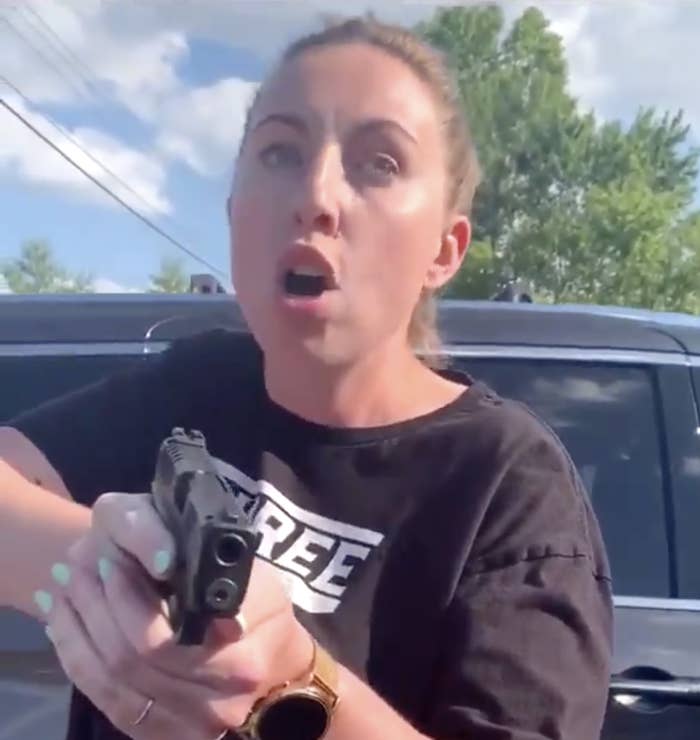 The Oakland County Sheriff's Office said in a press release that deputies were called to the scene around by both parties. Jillian Wuestenberg, 32, and Eric Wuestenberg, 42, were both charged on one count each of assault with a dangerous weapon.
It must be absolutely exhausting living in America, worrying that just anyone could pull a gun out on you if you piss them off. I don't really get into arguments anyway, but if I got into a shouting match with someone at Sainsbury's, I get a story out of it. If I got in a shouting match at a Walmart, I could have a gun pointed at me and maybe even shot.
Very weird country.
Images via YouTube, Twitter
Alfie Powell joined as an apprentice and was probably hired because he was likely the only person who applied. He's been blagging his way through writing articles for four years now and he's definitely showing signs of slowing down. When not writing for The Hook, Alfie finds time to indulge in his favourite hobbies, such as drinking and sitting down.