You Can Finally Listen To 'Toss A Coin To Your Witcher' On Spotify And Apple Music
Witcher fans can finally listen to Toss A Coin To Your Witcher on Spotify and Apple Music
Banger.
Okay, it's not exactly a 3.30am in the club banger; it's more of a humming while y0u queue for that morning coffee kind of banger. Regardless, Toss A Coin To Your Witcher is a staple of the first series of Netflix's The Witcher and deserves our utmost respect.
[ad-a]
The ridiculously catchy tune (honestly, I haven't felt this way since The Ketchup Song) took the internet by storm, the moment viewers were first serenaded with it by the show's adorably goofy bard, Jaskier (played by British actor Joey Batey).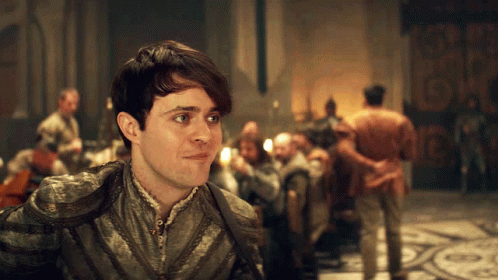 His song's a jam and the internet is thirsty for it. And for whatever reason, it's taken this long for Netflix to pull their finger out and release the single officially. It's safe to say we've had enough covers now.
[ad-b]
The official Witcher Twitter account confirmed the news earlier today:
"When a humble bard
"Wrote a catch song
"You tweeted and asked us
"What's taking so long?
"The Witcher Soundtrack Vol. 1 debuts everywhere 24 January. 
"'Toss A Coin' single out now."
[ad-c]
A full soundtrack is coming!
Yep, The Witcher Soundtrack Vol.1, a complete soundtrack for Season 1 (which will include the single Toss A Coin To Your Witcher) will be available from Spotify and Apple Music as of 24th January. The score is written and arranged by composer Giona Ostinelli and producer Sonya Belousova.
What's two more days when they've kept us waiting so long, eh? Besides, you can blast Toss A Coin To Your Witcher on Spotify on repeat to fill the next 48 hours. Sorted.
[ad-d]
The Witcher has bewitched literally everyone on Earth
It's safe to say the creators of The Witcher have had a pretty sound January.
Since the first series dropped on Netflix on 20th December 2019, Witcher fever hasn't showed any signs of slowing down. In fact, just today we reported that The Witcher is on track to become the most-watched season one show in Netflix history (which literally no-one is surprised by at this stage). Nonetheless, it's an impressive feat. Netflix recently announced the news in its shareholder letter for Q4 2019. The streaming service revealed that in The Witcher's first four weeks of availability, 76 million "member households chose to watch" the series.
F**K.
[ad-e]
Will The Witcher be back for Season 2?
Yes.
It's already in production. In fact, from the looks of things, the show isn't going anywhere any time soon. Netflix are raking in that sweet subscription money and we get to look at Henry Cavill in the bath. Everyone's happy.
Actually, Mr Cavill recently posted the following on social media:
"Hello everybody, I'm back. I have been enjoying my Christmas break, perhaps a little too much at some points, but now it is back to work.

"Pre-production will be starting very shortly on Witcher season two. I see that you've all enjoyed Witcher season one, thank you very much for that, and I'm glad you enjoyed it. I'll be giving you updates on here as time goes on."
[ad-f]
Season 2 is expected to drop on Netflix at some point in 2021. Which means we probably won't get part 2 of this soundtrack until 2023. IJS.
Right, Throw A Coin To Your Witcher is going straight on the gym playlist. I'll have those Cavill guns by the time Season 2 comes around, just you wait.
Images via Netflix
Having worked in children's media and publishing for almost a decade, Ben is thoroughly excited to now be able to swear in stories and features. He is such a big fan of Disney and Horror films that he started an LGBTQ+ podcast called 'Once Upon A Scream'. His mum listens. You can contact Ben at [email protected] Twitter: @PulsfordBen / Instagram: @thebenmidler