You Can Now Get A Tutu For Your Pet Chicken
Tutus for chickens are exactly what we needed to make us realise there's good in the world. You wouldn't have thought so, but then you look at one and think "yeah that is good".
Now you might be thinking, "who has a pet chicken" and I wondered that too, but then I remembered that my girlfriend and I are watching Lost in Space on Netflix, and there's a guy on that with a pet chicken.
The thing about his chicken though? No tutu. That guy definitely needs one of the tutus for chickens.
You know… so he can put a tutu on his chicken.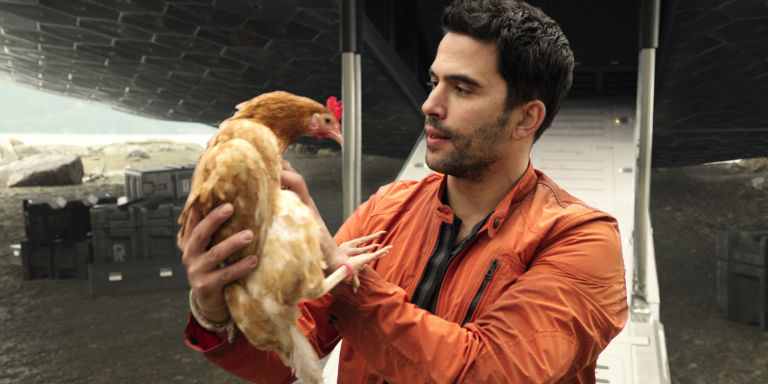 To be fair, he may actually do that as some point. We're not very far into the series. Right now it's anyone's guess.
Now available on Amazon, you can get chicken tutus for $16.98, and while I'd argue that they're more repurposed fascinators, I'm probably wrong.
As the product description has it:
"The small and exquisite tutu skirt with a pretty grosgrain ribbon and plenty of tulle gives the rooster skirt a fluffy fullness and decorate your chicken completes the princess look. Your chicken will not mind having such beauty and adorable dress on.

"Put your chick in a tutu and brighten your precious chicken's day to have fun and take photos to record the beautiful memories and good times with this cute chick skirt."
Nice.
The reviews are pretty good, including:
"My hen Lilly looks great in her new Tutu!"
and…
"Absolutely fabulous. #priscillachicken"
Then again, there's also this…
"The stitching was SO bad. It was falling apart when I received it. I have never written a review before, But I'm so disappointed. And I was shipped the wrong colour."
Not even slightly happy about her chicken tutu. A real shame. A real f*cking shame.
On average though, the chicken tut has 4 out of 5 stars. That's really not bad at all.
Chicken tutus. Whatever next.
Images via Amazon, Netflix, Instagram
Alfie Powell joined as an apprentice and was probably hired because he was likely the only person who applied. He's been blagging his way through writing articles for four years now and he's definitely showing signs of slowing down. When not writing for The Hook, Alfie finds time to indulge in his favourite hobbies, such as drinking and sitting down. You can contact Alfie at [email protected]